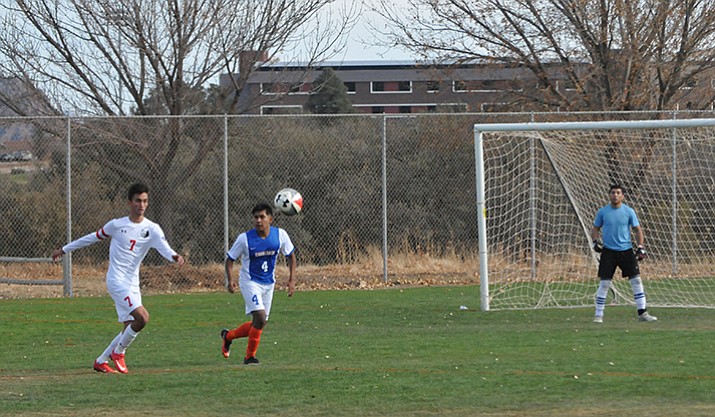 Originally Published: December 3, 2017 6:05 a.m.
The Bradshaw Mountain boys' soccer team hung with Camelback for the first half of Saturday's Alliance Tournament semifinal. And yet once Camelback's quick attack and stingy back-row defense got in sync, the 4A Bears couldn't contain the 5A Spartans.
Four different Spartans scored a goal and their defense pitched a shutout in the second half, as Camelback snapped a 1-1 tie in the 36th minute and cruised to a 4-1 victory over Bradshaw Mountain.
In the championship match Saturday night, Gila Ridge edged Camelback, 1-0, and toted the tournament title trophy back to Yuma with a 4-0 record. Gila Ridge, which won three matches on Saturday alone, was led by Esteban Franco, who scored eight goals for the tournament.
The Bears placed third, drubbing Raymond Kellis, 6-2, in the third-place match. For the tournament, Bradshaw Mountain finished with a 2-2 record. They opened with a 5-0 shutout win over Cesar Chavez on Thursday, and then suffered a 5-1 loss to Gila Ridge on Friday before splitting on Saturday.
"We could've communicated a little bit more and played a little faster," Bears co-captain Ruben Gonzalez said of the Camelback loss. "They were right behind us every time, so we just need to minus one touch and play it [the ball]. Because once we second guess it, it's over. They'll be there."
Camelback, which earned a plaque for placing second at the Alliance, qualified for the 5A state tournament last winter. This season, the Spartans' goals are to win their region, reach state again and go deeper into the bracket.
"My desire is to help these boys take the next level, whatever that looks like for them," said Camelback coach Rob Wagner, a former four-year letterman at NCAA Division I Liberty University in Lynchburg, Virginia. "Ideally, we've got a lot of kids who have talent to go to college, play junior college or play four-year college if their grades are good enough for that. They have the desire. We are working on creating a culture where we are student-athletes."
Bradshaw Mountain coach Bruce Giles said Camelback's goalkeeper "saved four shots that in any other game would've gone in."
"Sometimes the ball doesn't bounce your way," Giles added. "We had, in the first 15 minutes, three incredible shots that were unbelievable saves. This game could've gone either way."
Camelback's Dair Figueroa (penalty kick) and Eduardo Pardo scored a goal apiece in the first half, and Spartans Luis Ibarra and Ceasar Rentana followed with scoring strikes in the 52nd and 60th minutes, respectively. Sam Carrera, Jesus Ramirez and Alexis Ortega registered an assist apiece.
"They're a very disciplined team," Giles said. "They distribute the ball, read the ball well. They move into space well. They put our back line under pressure all the time, and they got a couple goals off of it with deep, bouncing balls."
For the Bears, forward Brandon Fischer scored his team's lone goal, an equalizer midway through the first half. (After the tournament, Fischer received a trophy for scoring the most goals in the tournament with nine.)
But the tie was short-lived. Pardo notched the go-ahead goal off a corner kick from Carrera, who was left open near the left post on a defensive miscommunication for an easy short-range shot in the 36th minute.
"It just killed us," Gonzalez said of Pardo's strike. "Then it went into halftime, and that's when they got their confidence."
With the Spartans leading 2-1 at halftime, Ibarra's bounding shot in the 52nd minute dropped into the Bears' net for a 3-1 Camelback lead. Rentana subsequently put the match out of reach with a gorgeous deep shot that he lined sharply into the top shelf some 8 minutes later for the 4-1 Camelback advantage that stood.
"It's definitely a learning opportunity defense-wise for me," Bradshaw Mountain defender Kyle Spencer said. "I need to learn a few more things. Midfield was solid, but it could've been better. Our offense was decent, but finishing wasn't good enough. Obviously, that's something we need to work on.
"But I love these guys. This is a great group of guys. They're all my brothers. I've known all of them for a very long time."
UP NEXT
Bradshaw Mountain travels to face Peoria at 6 p.m. Tuesday, Dec. 5, for its first power-point match of the season.
Camelback will play host to Cesar Chavez at 6 p.m. Dec. 5, in Phoenix, for its initial power-point match.