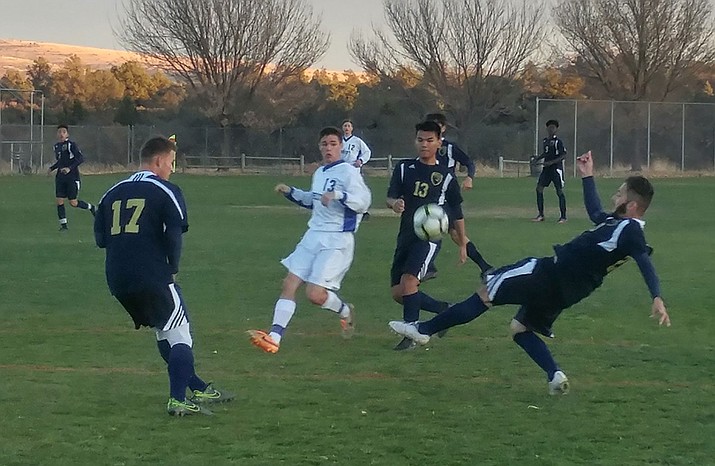 Originally Published: December 2, 2017 6:05 a.m.
Alliance Tournament
at Pioneer Park in Prescott
Friday's Scores
Pool Play
Raymond Kellis 5, PRESCOTT 3
Gila Ridge 5, BRADSHAW MNT 1
Today's Matches
Pool Play
Camelback (1-0 pool) vs. Raymond Kellis (1-0), 8 a.m. (Field 1)
Gila Ridge (1-0) vs. Cesar Chavez (0-1), 8 a.m. (Field 2)
Semifinals
Pool A #1 vs. BRADSHAW MOUNTAIN (1-1 pool), noon (Field 1)
Pool B #1 vs. Pool A #2, noon (Field 2)
Consolation
PRESCOTT (0-2 pool) vs. Pool B No. 3, 2 p.m. (Field 1)
Finals
Winner Pool A vs. Winner Pool B, 5 p.m. (Championship; Field 1)
Loser Pool A vs. Loser Pool B, 5 p.m. (Third-Place Match; Field 2)
Early-season tournaments give many high school soccer coaches a chance to tinker with their lineups and determine their teams' strengths and weaknesses before power-point matches begin. Count first-year Prescott mentor Phil Reid among that philosophy's fraternity.
The 4A Badgers, who are still developing their identity in the initial stages of the 2017-18 season, lost to Raymond Kellis of Glendale, 5-3, for their second setback in as many days at the Alliance Tournament at Pioneer Park. However, a majority of Prescott's players received minutes to learn valuable lessons in these matches, and Reid's been keeping mental notes along the way.
At 2 p.m. today, Pool A third-place finisher Prescott (1-2 overall record) will compete in a consolation match, likely against Cesar Chavez of Phoenix, in hopes of taking another step in its progression.
"It's the regular-season games that matter, and I want them to work out all the issues here in these tournament games so we can come away with wins [in the coming weeks]," Reid said regarding power-point matches, which count toward the state rankings. "We need to start games quicker. Don't start from behind. Take it to the other team to set the pace."
Against Kellis, Prescott was led by junior forward Westen Tenney, who scored two goals within a minute of each other in the final 15 minutes of regulation. The Badgers trailed 3-1 at halftime and 4-1 midway through the second half before Tenney's tallies pulled Prescott within one of a tie, 4-3.
"At the beginning of the game, our speed of play was a little slower and we were a little hesitant," Tenney said. "At the end, we started putting a lot more pressure, we went a lot faster and were thinking a lot quicker. By doing so, we got two goals in the back of the net."
Reid said he was encouraged by his players maintaining their mental focus throughout the match after falling in an early hole.
"We started finding the forwards, getting out in the flanks — we played a lot better football," he added. "I'm encouraged by it. We're gradually building."

But Kellis sophomore star forward Emanuel Robles, who registered a hat trick, drilled a perfectly placed 40-yard free kick into the Prescott goal's top shelf in the final 2 minutes to end the Bears' threat and the match, 5-3.
"The way that game ended was incredible," Kellis coach Jonathan Perdomo said of Robles' game-ending goal. "It was probably one for the memories and one for the books. It's something we'll definitely remember for a long time."
Prescott trailed Kellis 3-0 within the first 15 minutes of regulation. Robles opened the scoring with a crossing shot in the 3rd minute. Then, in the 10th and 12th minutes, respectively, freshman forward Mckinley Ruiz and junior forward Juan Ochoa each scored in front of the net. Ruiz is one of six freshmen on Kellis' 22-player roster.
"It's a good start for a young team – we have a bunch of freshmen, and we can go good places this season," Kellis senior midfielder Jared Floyd said.
Later, in about the 39th minute with Prescott's regular starters in the match, junior midfielder Claudio Orozco broke up the shutout with a goal, as the momentum seemed to shift.
In the second half, the Badgers controlled possession in the early going despite Robles booting in his second goal on a crossing pass from Ruiz for Kellis' 4-1 edge around the 65th minute.
Prescott senior midfielder Brennen Gallus said the complexion of the match would've been different if more of the Badgers' late chances had been successful.
"I view soccer as a game of multiple opportunities, and not all of them are going to go in," Gallus added. "We just got unlucky with some of our opportunities towards the end of the game not going in."
Doug Cook is a sports reporter for The Daily Courier. Follow him on Twitter at @dougout_dc. Email dcook@prescottaz.com or call 928-445-3333, ext. 2039.
More like this story