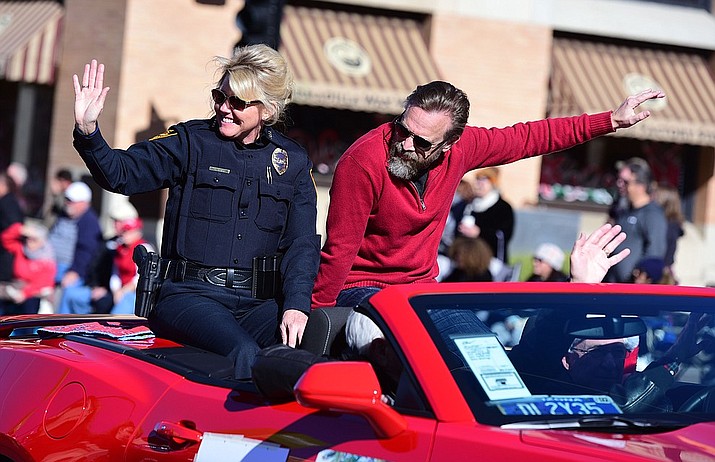 Originally Published: December 1, 2017 6:06 a.m.
New precautionary security measures will be in place on Saturday when the traditional Christmas Parade and Courthouse Lighting take to the streets of downtown Prescott.
Prescott Police Chief Debora Black announced this week that additional personnel and equipment will be stationed along the parade route and at designated intersections.
"In light of incidents around the nation, we are doing more this year to ensure the safety of our citizens and visitors as they enjoy these treasured events," Black said in a city news release.
"We want to make citizens aware of these changes ahead of time, so they are not surprised when they see additional uniformed staff or equipment," Black added. "We want the public to know that these measures are precautionary only, and are designed to keep everyone safer."
Examples of the changes include:
• Use of additional city and county equipment as well as personnel in order to gain a better overview of the entire parade route.
• Road closures will be supported with additional barricade equipment to prevent unauthorized vehicles entering the parade route.
• Additional bicycle patrol officers will be deployed inside the parade route to meet citizen's call for service needs.
• A designated family reunification point will be established at the City of Prescott stage should children or others become separated from their party.
"These additional measures will change traffic patterns for the event, so motorists should be advised," the news release stated.
For instance, North Montezuma Street at Sheldon will be closed to southbound traffic, as well as Willis Street at Montezuma Street being closed to eastbound traffic.
"Persons wanting to access Highway 89 or 69 will need to use Hillside to North Montezuma Street to eastbound Sheldon Street to the Highway 89 and 69 interchange," the release added.
In addition to these measures, Black is encouraging all citizens to be diligent and aware of their surroundings for suspicious activity.
"Never hesitate to contact local law enforcement about something or someone you have concerns about, particularly if you have been threatened or believe someone may become violent against others," Black said.
She added: "As simple as it sounds, if you see something, say something. You may be the key to preventing the next tragedy."
In addition, Black and the heads of other local law enforcement agencies recently shared a number of personal safety tips, including:
• When you are in a public place, know where you are (street address, building, room) so that public safety can respond to your location without unnecessary delay.
• Identify more than one exit and a route to get there. Imagine and visualize what actions you would need to take if an emergency presented.
• Take a moment when you arrive to assess the environment – lighting, noise level, the nature of the crowd, etc. This way, you will be better equipped to identify an individual exhibiting behavior that is not normal for the setting, or any sudden, unexpected changes in your environment. In recent incidents, audiences mistook gunfire for pyrotechnics as part of a performance; this confusion led to a delayed reaction and tragically, likely led to injury and loss of life.
"It is possible to remain aware and prepared and still enjoy yourself," the news release added.
The city encourages citizens to take advantage of information offered through the Department of Homeland Security website, specifically Run. Hide. Fight. https://www.dhs.gov/active-shooter-preparedness. Or, for more information, contact Prescott Police Department at 928-777-1900.
Related Stories
More like this story