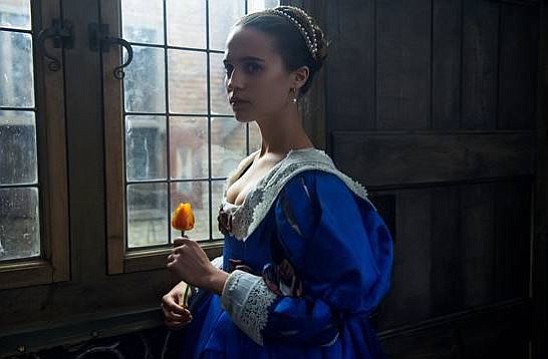 Originally Published: August 31, 2017 8:28 p.m.
Movies playing at Harkins Theatres, 7202 Pav Way, Prescott Valley (Highway 69 between Glassford Hill and Lake Valley roads). 928-775-7444; www.harkins.com.
(NEW) TULIP FEVER – In 17th century Amsterdam, an orphaned girl (Alicia Vikander) is forcibly married to a rich and powerful merchant (Christoph Waltz) -- an unhappy "arrangement" that saves her from poverty. After her husband commissions a portrait, she begins a passionate affair with the painter (Dane DeHaan), a struggling young artist. Seeking to escape the merchant's ever-reaching grasp, the lovers risk everything and enter the frenzied tulip bulb market, with the hope that the right bulb will make a fortune and buy their freedom. Rated R for sexual content and nudity. Drama, Romance
Also showing:
ALL SAINTS – Based on the inspiring true story of salesman-turned-pastor Michael Spurlock (John Corbett), the tiny church he was ordered to shut down, and a group of refugees from Southeast Asia. Together, they risked everything to plant seeds for a future that might just save them all. Rated PG for thematic elements. Drama
ANNABELLE: CREATION – A couple still grieving the death of their daughter take in children from a local orphanage, but the family are soon terrorized by a demented doll known as Annabelle. Anthony LaPaglia, Miranda Otto, Stephanie Sigman, Talitha Bateman, and Lulu Wilson star in this horror sequel from director David F. Sandberg ("Lights Out"). Rated R for horror violence and terror. Drama, Horror
BIRTH OF THE DRAGON – Set against the backdrop of 1960s San Francisco, BIRTH OF THE DRAGON is a modern take on the classic movies that Bruce Lee was known for. It takes its inspiration from the epic and still controversial showdown between an up-and-coming Bruce Lee and kung fu master Wong Jack Man - a battle that gave birth to a legend. Rated PG-13 for martial arts violence, language and thematic elements. Action & Adventure, Drama
CARS 3 – Blindsided by a new generation of blazing-fast racers, the legendary Lightning McQueen (voice of Owen Wilson) is suddenly pushed out of the sport he loves. To get back in the game, he will need the help of an eager young race technician, Cruz Ramirez (voice of Cristela Alonzo), with her own plan to win, plus inspiration from the late Fabulous Hudson Hornet and a few unexpected turns. Proving that No. 95 isn't through yet will test the heart of a champion on Piston Cup Racing's biggest stage! Rated G. Animation, Comedy, Kids & Family
THE DARK TOWER -- There are other worlds than these. Stephen King's "The Dark Tower," the ambitious and expansive story from one of the world's most celebrated authors, makes its launch to the big screen. The last Gunslinger, Roland Deschain (Idris Elba), has been locked in an eternal battle with Walter O'Dim, also known as the Man in Black (Matthew McConaughey), determined to prevent him from toppling the Dark Tower, which holds the universe together. With the fate of the worlds at stake, good and evil will collide in the ultimate battle as only Roland can defend the Tower from the Man in Black. Rated PG-13 for thematic material including sequences of gun violence and action. Horror, Science Fiction & Fantasy, Western
DUNKIRK – Acclaimed auteur Christopher Nolan directs this World War II thriller about the evacuation of Allied troops from the French city of Dunkirk before Nazi forces can take hold. Tom Hardy, Kenneth Branagh and Mark Rylance co-star, with longtime Nolan collaborator Hans Zimmer providing the score. Rated PG-13 for intense war experience and some language. Action & Adventure, Drama
THE EMOJI MOVIE – Hidden inside a smartphone, the bustling city of Textopolis is home to all emojis. Each emoji has only one facial expression, except for Gene (T.J. Miller), an exuberant emoji with multiple expressions. Determined to become "normal" like the other emojis, Gene enlists the help of his best friend Hi-5 (James Corden) and a notorious code breaker called Jailbreak. During their travels through the other apps, the three emojis discover a great danger that could threaten their phone's very existence. Directed by Tony Leondis, also starring the voices of Steven Wright, Patrick Stewart and Christina Aguilera. Rated PG, science fiction film/adventure.
THE GLASS CASTLE – Chronicling the adventures of an eccentric, resilient and tight-knit family, "The Glass Castle" is a remarkable story of unconditional love. Oscar winner Brie Larson brings Jeannette Walls' best-selling memoir to life as a young woman who, influenced by the joyfully wild nature of her deeply dysfunctional father (Woody Harrelson), found the fiery determination to carve out a successful life on her own terms. Rated PG-13 for mature thematic content involving family dysfunction, and for some language and smoking. Drama
THE HITMAN'S BODYGUARD – The world's top protection agent (Ryan Reynolds) is called upon to guard the life of his mortal enemy, one of the world's most notorious hitmen (Samuel L. Jackson). The relentless bodyguard and manipulative assassin have been on the opposite end of the bullet for years and are thrown together for a wildly outrageous 24 hours. During their raucous and hilarious adventure from England to the Hague, they encounter high-speed car chases, outlandish boat escapades and a merciless Eastern European dictator (Gary Oldman) who is out for blood. Salma Hayek joins the mayhem as Jackson's equally notorious wife. Rated R for strong violence and language throughout. Action & Adventure, Comedy
KIDNAP -- A typical afternoon in the park turns into a nightmare for single mom Karla Dyson (Academy Award winner Halle Berry) when her son suddenly disappears. Without a cellphone and knowing she has no time to wait for police help, Karla jumps in her own car and sets off in pursuit of the kidnappers. A relentless, edge-of-your seat chase ensues, where Karla must risk everything to not lose sight of her son. In this tense, action-fueled thriller, directed by Luis Prieto and from the producers of "Salt" and "Transformers," one mother's heroic attempt to take back her son leads her to ask herself how far she will go to save her child. Rated R for violence and peril. Action & Adventure, Drama, Mystery & Suspense
LEAP! – 11-year-old orphan Félicie (Elle Fanning) has one dream -- to go to Paris and become a dancer. Her best friend Victor (Nat Wolff), an imaginative but exhausting boy with a passion for creating, has a dream of his own -- to become a famous inventor. In a leap of faith, Victor and Félicie leave their orphanage in pursuit of their passions. But Félicie must pretend to be the child of a wealthy family in order to gain admittance to the prestigious and competitive Opera Ballet School in Paris. And with no professional dance training, she quickly learns that talent alone is not enough to overcome the ruthless, conniving attitudes of her fellow classmates. Determined to succeed, Félicie finds her mentor in the tough and mysterious school custodian, Odette (Carly Rae Jepsen) who, along with Victor's encouraging friendship, helps her reach for the stars. Rated PG for some impolite humor, and action. Action & Adventure, Animation, Drama, Kids & Family
LOGAN LUCKY – Trying to reverse a family curse, brothers Jimmy (Channing Tatum) and Clyde Logan (Adam Driver) set out to execute an elaborate robbery during the legendary Coca-Cola 600 race at the Charlotte Motor Speedway. Rated PG-13 for language and some crude comments. Comedy
NUT JOB 2: NUTTY BY NATURE – Surly Squirrel (Will Arnett) and the gang are back. We are once again in Oakton where the evil mayor has decided to bulldoze Liberty Park and build a dangerous amusement park in its place. Surly and his ragtag group of animal friends band together to save their home, defeat the mayor, and take back the park. "The Nut Job 2" also features the voice talent of Katherine Heigl ("The Nut Job"), Jackie Chan ("Kung Fu Panda 3"), Peter Stormare ("Penguins of Madagascar"), Bobby Cannavale ("Ant-Man"), Isabela Moner ("Middle School: The Worst Years of My Life"), and Maya Rudolph ("The Angry Birds Movie"). Rated PG for action and some rude humor. Animation, Comedy, Kids & Family
SPIDER-MAN: HOMECOMING – A young Peter Parker/Spider-Man (Tom Holland), who made his sensational debut in Captain America: Civil War, begins to navigate his newfound identity as the web-slinging super hero in Spider-Man: Homecoming. Thrilled by his experience with the Avengers, Peter returns home, where he lives with his Aunt May (Marisa Tomei), under the watchful eye of his new mentor Tony Stark (Robert Downey, Jr.). Peter tries to fall back into his normal daily routine -- distracted by thoughts of proving himself to be more than just your friendly neighborhood Spider-Man -- but when the Vulture (Michael Keaton) emerges as a new villain, everything that Peter holds most important will be threatened. Rated: PG-13 for sci-fi action violence, some language and brief suggestive comments. Action & Adventure, Drama, Science Fiction & Fantasy
WIND RIVER – "Wind River" is a chilling thriller that follows a rookie FBI agent (Elizabeth Olsen) who teams up with a local game tracker with deep community ties and a haunted past (Jeremy Renner) to investigate the murder of a local girl on a remote Native American Reservation in the hopes of solving her mysterious death. Written and directed by Taylor Sheridan, "Wind River" also stars Gil Birmingham, Jon Bernthal, Julia Jones, Kelsey Asbille, and James Jordan. Rated R for strong violence, a rape, disturbing images and language. Drama, Mystery & Suspense