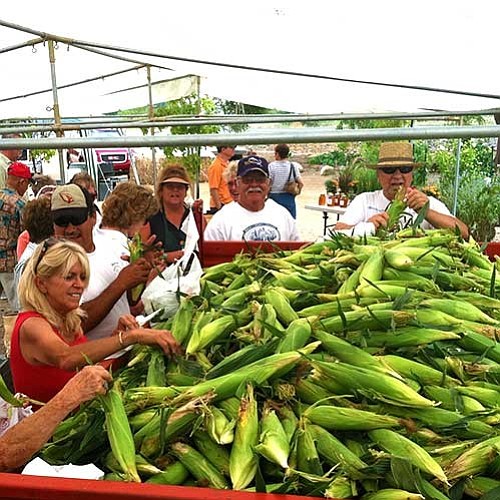 Originally Published: August 31, 2017 6:15 p.m.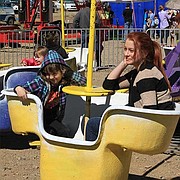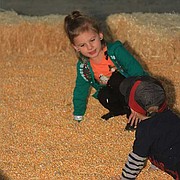 At Mortimer Family Farms, located at the intersection of highways 69 and 169 in Dewey, Labor Day weekend means the annual Sweet Corn Harvest Party, a chance to savor the farm's delicious fresh-picked corn and other farm-fresh delights and contribute to a good cause.
The $10 price of admission to the party on Saturday, Sept. 2, and Sunday, Sept. 3, from 10 a.m. to 6 p.m. will allow all generations to enjoy a day on the farm whether they are hunting down crafts at various vendor booths, playing family-friendly harvest games such as "farm slide" the "corn bath" or the barrel train." Teens will enjoy participating in the "Corn Crazy Competitions" where they can win prizes in the corn eating competition, the corn shucking competition and the corn toss. They will also have "Roping Dummies."
The littlest ones — age 2 and under are free — will be treated to the "Buckaroo Pony Corner" and a straw maze. The entire family can go for a hayride and learn about the history of this area's agriculture and get a chance to pick a fresh piece of corn right off the stalks in the fields.
When the family gets hungry, the admission price will allow them to feast on a "harvest meal" of either a pulled pork sandwich or hot dog along with two farm sides — maybe sweet corn — dessert and a drink.
Beyond sweet corn, Mortimer Farms is proud to share the rest of its produce bounty with its visitors and regular customers, including such treats as corn relish and other farmers' market specialties as well as some yummy grandma-friendly treats. For fellow farmers, or those who just like to look at big tractors, the festival will also include an antique tractor display.
All this fun and fresh food also comes with a request — Mortimer Farms every year makes a donation to the Yavapai Food Bank and asks all party attenders to bring two cans of non-perishable food items to donate.
"Our community is awesome. I know as we all join together we can help sure no kids go to bed hungry," said Farm; owner Sharla Mortimer.
For tickets, visit the website MortimerFarmsAz.com. For more information, call the farm at 928-830-1116.
By Nanci Hutson.