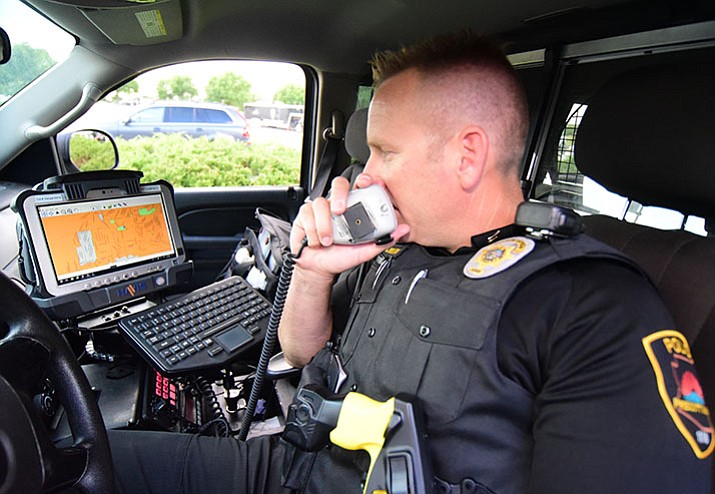 Photo by Les Stukenberg.
Originally Published: August 31, 2017 6:03 a.m.
For decades now, law enforcement agencies have been beefing up their radio technology to keep unauthorized listeners from hearing their transmissions.
The problem is that normal, or analog, two-way radios, which are inexpensive and relatively easy to repair, can also be monitored by anyone with a "police scanner," a receiver that can be purchased in stores and online.
Police never know who is listening, and the audience could include suspects who also own a scanner and will know if they're coming.
That's why, starting as far back as the 1980s, police radio manufacturers have worked to bring to market radios that were tougher to hear.
The first new models simply used a new band of frequencies, in the 800 Megahertz band, which older scanners could not monitor. When the consumer scanners caught up, the police radio suppliers added "trunking," a system by which each transmission happens on a different frequency.
Soon, scanners that could follow trunking conversations appeared on the market.
By 2000, agencies that wanted to keep their talk under wraps were turning to digital trunking radios, which were much more difficult for the hobby scanner-listener to hear.
It took several years for a consumer scanner that could pick up those transmissions to arrive, and it cost around $700.
More followed, but they have remained more costly than many hobbyists are willing to pay, and some departments have moved to forms of digital encryption that simply can't be heard on scanners at all.
Here in the Quad Cities, police and fire departments still use the older, reliable analog systems.
That's made for an active community of scanner buffs, some of whom gather on Facebook groups such as the "Central Arizona Police and Fire Activity Group," which boasts more than 3,500 members.
The group's moderators, Bob Salazar and Alan Czech, enforce rules to keep the commenters from divulging medical information or police movements.
"If they do (change technology), then I'd have to spend the money to buy an updated digital scanner, or not be able to listen to them," he said.
But Czech shows no signs of concern that such a change might shut down his hobby of listening to scanners.
"If they did do it, it would be … to keep them safe," he said.
There doesn't appear to be a rush for local law enforcement to join their colleagues in other cities, such as Phoenix, in changing their radio systems.
The Prescott Regional Communications Center, which dispatches for both Prescott and Prescott Valley police, will not be switching to any form of encryption soon, Lead Police Officer David Fuller said.
He added that the current police radios would, in fact, be able to be encrypted, if the PRCC had the ability to transmit the signal, which it currently does not.
The major stumbling block to encryption is that "it would be cost-prohibitive as all the tower sites would need to be upgraded," he said.
"I suspect if you talked to officers they would appreciate having encryption, for a number of reasons, safety being at the top," Fuller said. "I think we could all agree there are occasions in our line of work that it would be helpful and lend to officer safety to have encryption, but for the day-to-day operations there just hasn't been the demand for it."
Yavapai County Sheriff's spokesman Dwight D'Evelyn said they have "no plans at this time" to change radio systems, noting that "cost is one of the factors prohibiting such a transition."
That doesn't mean deputies broadcast everything they communicate, though. "Patrol deputies already have mobile data terminals which provide the ability to communicate, conduct warrants, receive calls and access law enforcement data bases with complete confidentiality," D'Evelyn said.

Because YCSO also dispatches for the Chino Valley Police Department, any such decision would be in the YCSO's hands, CVPD Lt. Vince Schaan said.
"They need to be safe. The bad guys carry more scanners than the good guys," Czech said. But no, I don't absolutely need to know what's happening. "
More like this story