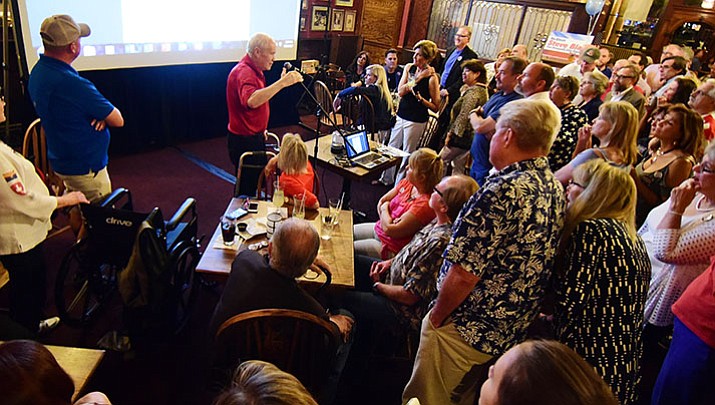 Photo by Les Stukenberg.
Originally Published: August 29, 2017 7:31 p.m.
Updated as of Tuesday, August 29, 2017 8:39 PM
These are the most current (unofficial) results available for the Prescott Primary Election, Aug. 29, 2017 - as of 7:30 p.m. According to the City of Prescott and Yavapai County Elections, turnout was 56.36 percent (29,156 registered voters; 16,432 ballots returned).
City Attorney Jon Paladini said Tuesday night no candidates received the required 50 percent of the vote plus one to be elected outright in the primary. All six council candidates (two per seat) and the top two mayoral candidates advance to the run-off set for the Nov. 7 general election.
Ballots included three candidates for mayor, and six for the three open City Council seats:
• Mayoral candidates — Mary Beth Hrin, Greg Mengarelli, and Jean Wilcox.
• Council candidates — Steve Blair, Connie Cantelme, Phil Goode, Greg Lazzell, Alexa Scholl, and Joe Viccica.
Prescott's current mayor, Harry Oberg, announced earlier this year that he would not be seeking another term. Council seats currently held by Wilcox, Blair, and Lazzell are all up for election. The mayor's term is for two years, while the council terms run four years.
In addition, two propositions were asked:
• Proposition 443 — the ballot measure asking for a 0.75-percent increase in the city's sales tax to help pay down the more than $78 million in unfunded liability with the Public Safety Personnel Retirement System (PSPRS). If approved the tax would take effect on Jan. 1, 2018, and would end the earlier of Dec. 31, 2027, or when the city's PSPRS unfunded liability is $1.5 million or less.
• Proposition 442 — the city's bid to extend its Alternate Expenditure Limitation (Home Rule Option) for four more years. The option gives local governments the authority to control their own budgets, rather than adhering to a state-imposed limit.
NOTE --- to view the number of votes each person or question received, click on that bar of the graphic.