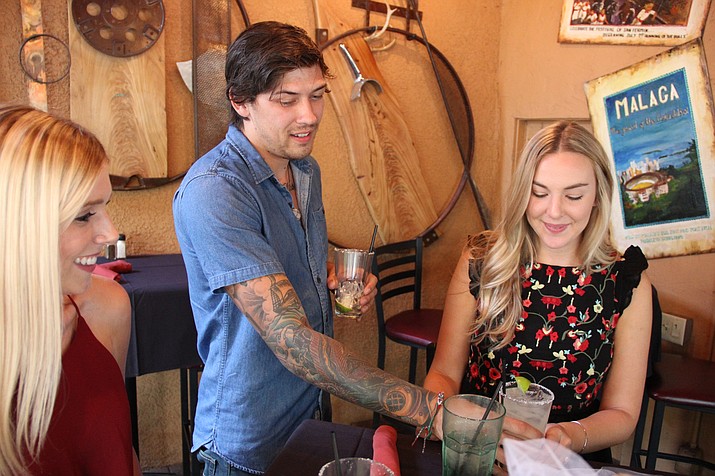 Originally Published: August 28, 2017 6:03 a.m.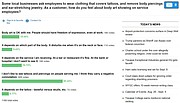 Body art, including tattooing, body piercing, permanent skin coloring, branding and scarification, has become an increasingly popular form of individual expression among people of both genders and all ages.
One is hard-pressed, however, to find too many employees of businesses in town flaunting such flair.
That's because many business owners still don't feel too comfortable with how their customers may perceive body art on those offering them a service.
This may be prudent when considering a recent survey taken by The Daily Courier.
While non-scientific, about 52 percent (609) of respondents voted they simply do not like to see tattoos or piercings on people serving them.
Emily Meier, who owns the fast food restaurant Culver's in Prescott Valley with her husband, is acutely aware of this public opinion.
While she and her husband both have tattoos themselves, they run a tight ship when it comes to employee appearance.
"I personally don't have anything against tattoos, but we tend to appeal to the retired crowd, so I guess we just don't want to rock the boat," Meier said.
Their employees, of which there are quite a few, must all abide by the same policy: no body art is allowed to show except for one set of stud earrings.
For someone with body art on their arms that can't be temporarily removed, this means either wearing a long-sleeve shirt or an athletic sleeve — a common practice.
If the body art is somewhere that cannot be easily covered, however, such as the neck or a hand, the Meiers don't go as far as to ask the employees to wear turtlenecks or gloves.
"It is what it is at that point," Meier said.
As far as tattoos go, it's a matter of taste.
"My issue with it is that some people don't have tasteful, appropriate tattoos, so it's hard for me to tell people yours are good, but yours aren't," Meier said. "To not have to fight that fight, we just say everyone has to cover them."
For piercings and other related accessories, it's more of a sanitation concern.
"It's food safety," Meier said. "We don't want anything like that falling into the food. That sort of stuff also tends to harbor bacteria."

Barry Barbe, owner of the Prescott restaurant El Gato Azul, has a slightly more laid-back attitude toward body art.
"For the most part, as long as it's tasteful and doesn't distract from the dining experience, I don't have a problem with it," Barbe said.
This is only a recent policy view for Barbe, however.
"We used to be much stricter about it five or 10 years ago," he said. "I think [body art] has become more acceptable. Before, there were no excessive piercings beyond the ears, but now we allow nose rings and whatnot."
Case in point, he has several employees with visible body art.
Server Tyler Stevenson, for instance, has tattoos completely covering his right arm and often wears a nose piercing.
Though he considered what sort of career impediment visible tattoos might be for him when he started getting them, he consciously pushed through that social conditioning.
"I decided I'm not going to let people determine what I do with my body," he said.
In his current position as a server, he'll occasionally get telling looks from older, more conservative customers, but most don't seem to mind his body art, he said.
"I see a lot of older people now that have fresh tattoos, so I even see them transitioning to the alternative, kind of 'I don't care' lifestyle," he said.
And while body art may alter his appearance, it has no impact on the quality of his performance as an employee, Barbe said.
"He's a great employee," Barbe said. "There's no question about that."