Originally Published: August 25, 2017 6:04 a.m.
Updated as of Tuesday, August 29, 2017 1:56 PM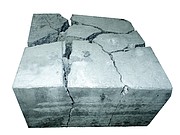 With the entire world of knowledge just a few mouse-clicks away, it has never been easier than it is right now to learn something new and unexpected every day and I expanded my learning horizon this past week when I had a conversation with a homeowner about removing large boulders from their property without equipment access. The homeowner called for a referral for labor to "hand dig" and remove boulders from his yard. My immediate response was, without being able to ramp up and mobilize/assemble equipment for the boulder removal, what did he have in mind. Now mind you I know a lot of folks from A-Z for construction issues, however Superman and Kryptonite compounds are not a part of my resource directory for large boulder removal.
The homeowner informed me that he had the boulder portion covered and my next question was "how"? Betonamit was his answer. I am thinking that Betonamit is a new hero of noble deeds and good qualities, but no Betonamit is a non-explosive, cracking agent; a non-toxic powder.
I found my way to Richard Sachs, owner of Prescott Equipment Rentals and Sales. Richard has owned PER&S for 45 years, located on Sixth Street in Prescott, and he educated me on Betonamit.
Betonamit, when mixed with water and poured into holes 1 1/4-inch, 1 3/8-inch or 1 1/2-inch diameter, hardens and expands, exerting pressures of 12,000 psi. Reinforced concrete, boulders and many other hard materials are fractured overnight with no noise, vibration, or flyrock of material. Richard said that Betonamit is perfect for outdoor boulder demolition projects.
Several local landscapers are well-versed in using fractured boulders for landscaping. Many rock yards and quarries sell boulders that have been Betonamited (I just created a new word). You can tell this from the hole/shaft area in some boulders. When using Betonaited boulders, landscapers must maneuver the boulder into placement so the fracturing hole and fracture lines do not show in the landscape area.
"We have to use artistic placement of the boulders into the landscaping when we use fractured rock," said Chris Welborn, owner of Vicente Landscaping.  
Betonamit has been used safely and with great results by thousands of contractors and homeowners all over the world and even here in Prescott. Richard said that safe use depends on following instructions and wearing safety goggles at all times. Although nontoxic, Betonamit is caustic, and can cause severe eye injury if splashed into eyes while mixing or pouring. Also, the chemical reaction of Betonamit and water generates heat. If this reaction goes too quickly, the temperature can go above the boiling point of water before all the water has chemically combined with the Betonamit. This can result in a steam-driven explosion which blows the Betonamit from the hole with sudden force.
To avoid blowouts, the instructions MUST BE FOLLOWED regarding mixing water, the temperatures and hole sizes. Again, always wear safety goggles and NEVER NEVER drill holes larger than 1 1/2-inch diameter.
Here are some hole depth instructions to follow:
-- Maximum Hole Depth is 10 feet.
-- Minimum Hole Depth is 4 times hole diameter; for example 5 inches with 1 1/4-inch hole, 6 inches with 1 1/2-inch. Holes shallower than 4 times diameter are likely to blow out.
-- In boulders, drill two-thirds to three-quarters of the rock's thickness.
The hole pattern that you drill depends on how fast you need results. More holes spaced closer together will have faster break times and smaller pieces, but this costs more in labor and Betonamit. Boulders are much easier to break than other materials and you can drill holes further apart, especially if breaking speed is not critical. No permits are required to use Betonamit and ALWAYS READ THE INSTRUCTION MANUAL BEFORE USE. ALWAYS WEAR SAFETY GOGGLES.
If you have questions, call Richard Sachs, our local Wikipedia super hero on Betonamit at 928-445-9110. And I can hardly wait for Jeopardy to ask the question, "What material is non-explosive and a cracking agent" and I can shout out BETONAMIT!
Remember to tune in to YCCA's "Hammer Time" every Saturday or Sunday morning at 7 a.m. on KQNA 1130 AM/99.9 FM and 95.5 FM or the web at kqna.com. Listen to Sandy to Mike talk about the construction industry, meet your local community partners, other local businesses and so much more. You will be entertained.
More like this story