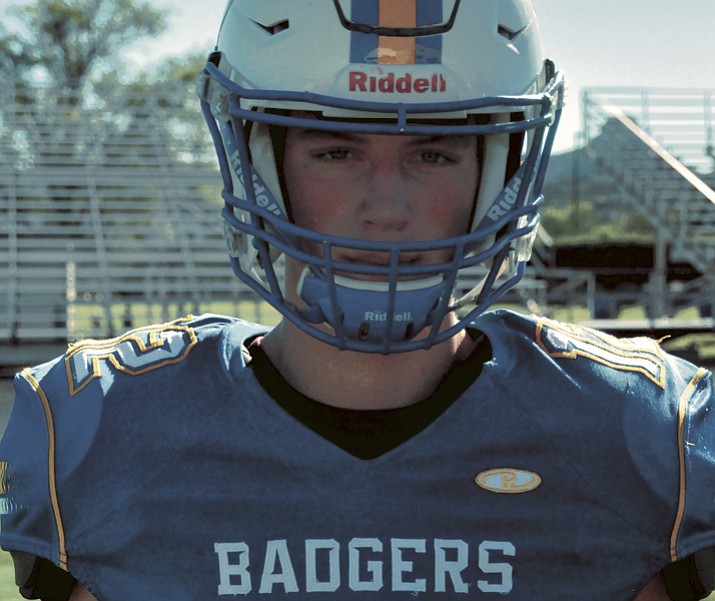 Originally Published: August 24, 2017 11 p.m.
Entering his junior season, Prescott quarterback Austin Clark believes he is more than ready to lead the Badgers under center in 2017.
Clark's bravado hasn't gone unnoticed by his teammates, or his coach, who named the 6-foot-3, 190-pound junior his starter out of training camp earlier this month.
To the victor go the spoils.
"Austin, he's the kind of kid that 24/7, he wants to be the quarterback of the Prescott Badgers," second-year Prescott head coach Michael Gilpin said, adding that Ryan Greene battled hard for the top signal caller position, but in the end, he chose Clark.
"Ryan has a tremendous amount of talent," Gilpin said.
When asked if he'll be an option at quarterback this season for the Badgers, Greene politely said it wasn't likely, but pointed out his younger brother, Aaron Greene, a 6-foot-5 sophomore, as a backup.
While Greene will man the backfield as the main cog in Prescott's running attack, Clark will need to quickly learn an offensive system he's only focused on for a handful of regular season games.
The Badgers broke training camp last fall with Clark slated on the depth chart at linebacker.
Gilpin replaced Greene with Clark midway through the 2016 season at quarterback, and Clark responded by completing 54 percent of his passes (33 of 61) for 398 yards and seven touchdowns, finishing the season with a 78.4 quarterback rating.
Clark believes with a full offseason of focus on being a quarterback under his belt, he'll be much more prepared in 2017.
"This year, I focused on how to read coverages, identify man versus zone, have a more intellectual approach to the game," Clark said.
If the Badgers are to be successful fall, they'll likely need Clark to have an outstanding season, but the junior believes everyone will chip in to make the playoffs this year.
"It's not only me, I can't win the game myself," Clark said. "This is a team, it's football, and it's a team sport."
Brian M. Bergner Jr. is associate sports editor and a columnist for The Daily Courier. Follow him on Twitter, Instagram and SoundCloud at @SportsWriter52, or on Facebook at @SportsAboveTheFold. Reach him at bbergner@prescottaz.com or 928-445-3333, ext. 1106.