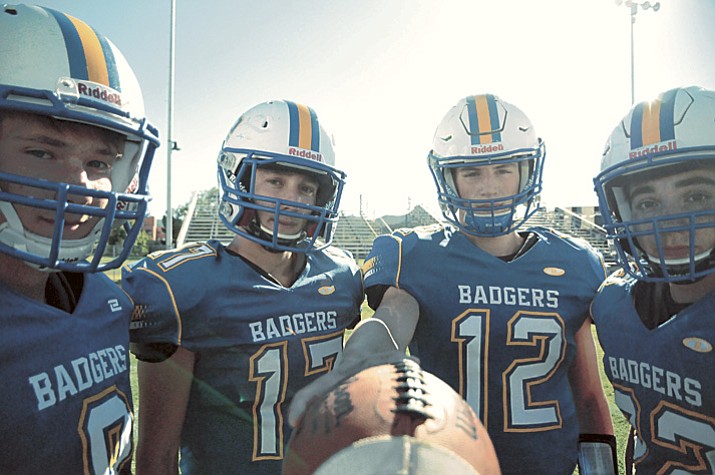 Originally Published: August 24, 2017 6:05 a.m.
https://soundcloud.com/sportswriter52/head-coach-michael-gilpin-prescott-football
In 2007, Prescott football shook Arizona's prep gridiron to its core with a 34-28 upset over No. 3-ranked Sabino as a No. 14 seed in the first round of the 4A-I state playoffs.
Since then, Prescott has qualified for the state playoffs just twice, losing both games, the last a 52-14 defeat at the hands of Ironwood Ridge in 2012.
One playoff win in the past decade doesn't seem to bother the current group of Badgers football players, however.
Entering the 2017 season, Prescott second-year head coach Michael Gilpin said he's not feeling the playoff pressure … yet.
"I think anyone who is competitive, you want to get into that playoff tournament. Because once you get there, you never know who you're going to draw, and you can go on a run at any time," Gilpin said during camp this week.
"But we have to get there first, and we've been close four straight years now," he added.
Prescott bitterly ended the 2016 season with a 41-15 loss against rival Bradshaw Mountain, watching the Bears reclaim the Rival Cup Trophy and celebrate a Grand Canyon region title.
The Badgers (6-4 in 2016) came into that contest having won five of their last six games, but it wasn't enough.
"Nothing has changed, you have to get those guys," Gilpin said, adding of the 17 turnovers his team committed in 2016, 11 were against Bradshaw Mountain and Mingus, a 48-12 loss the Badgers suffered just two weeks before playing the Bears.
"Those are both good teams with good players and good coaches, and you can't do that," Gilpin said. "If we stay calm and we play our game, we'll be fine."
TOP RETURNERS
Along with one of the biggest offensive lines in the state featuring returning senior lineman Rodney Pitts, Prescott returns junior quarterback Austin Clark, who won the job coming out of training camp.
Clark, who took over for Ryan Greene midway through last season as the top signal caller for the Badgers, said he felt the pressure in camp almost immediately.
"I think I can handle myself under pressure," Clark said. "You just have to be confident in any situation, you have to feel that you're going to win, and you don't have to be cocky about it, you just know in your mind that you're going to win."
Greene, a senior, will move to the tailback position full time, a position he looks forward to playing and insists he's more comfortable than ever.
"Last year, making the transition from quarterback to running back, I had to learn tons of plays, and what holes to hit," Greene said. "Now, I don't have to worry about quarterback, there's no pressure, and I can just worry about running back."
Gilpin said Greene is expected to be the feature back this season, and that's just fine with him.
"Austin wants to be a college football player. So just the preparation time that Austin puts in is really what we need right now," Gilpin said. "That allows us to let Ryan just be Ryan, go run and score a bunch of touchdowns."
Gilpin said he expects to get other backs a few carries this season including Sam Giordan, Koby Coates and possibly fullback Ean Porter.
"I don't like to put the load on one guy, because different running styles seem to be more effective against the way teams scheme us, so I like to run the hot hand," Gilpin said.
Other top returners include senior wide receiver John Chaffuer, junior left tackle Max Flores and junior kicker Bryce Peters.
On defense, junior safety Colton Amos leads a group focusing on making better tackles this season.
"We've been working a lot on it in practice, getting low and making the hit. It's an important part of the defense," Amos said, adding the defense will need to step up if the Badgers are to make the playoffs.
"In my opinion, the defense is the most important part of the team, and it's an important part of the program," Amos said. "I think we can win the state playoffs."
Gilpin agreed.
"They are pretty young on that side of the ball, but we've been developing young talented guys," Gilpin said. "Colton [Amos] is one of the leaders. He's the guy that does everything you ever ask, and he hits like a prize fighter. He's a super smart kid, too."
TOP NEWCOMERS
The Badgers feature a young crop of players who have impressed the coaching staff out of camp this fall, Gilpin said.
Along with Giordan, sophomore offensive lineman Joseph Macalino, sophomore receiver Dellin Boyd, sophomore wide receiver Giovanni Ruiz and sophomore defensive end Try Kohleor have impressed.
Sophomore quarterback Aaron Greene, Ryan's brother, is expected to be the backup behind Clark, and junior free safety Hunter Kronberg could see playing time side-by-side with Amos.
UP NEXT
Prescott (0-0, 0-0 4A Grand Canyon) opens the 2017 campaign at home Friday night against Marcos de Niza.
The Padres qualified for the 2016 playoffs as a No. 5 seed, defeating No. 12-ranked Buckeye Union 41-36 before losing to No. 4-ranked Salpointe Catholic 48-6 in round two.
Kickoff is set for 7 p.m.
Brian M. Bergner Jr. is associate sports editor and a columnist for The Daily Courier. Follow him on Twitter, Instagram, Periscope and SoundCloud at @SportsWriter52, or on Facebook at @SportsAboveTheFold. Reach him at bbergner@prescottaz.com or 928-445-3333, ext. 1106.