Originally Published: August 24, 2017 8:15 p.m.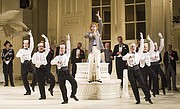 The English National Opera's acclaimed production of Gilbert and Sullivan's "The Mikado" will debut in Sedona on Sunday, Aug. 27, at 4 p.m. The Sedona International Film Festival hosts the big screen premiere at its Mary D. Fisher Theatre.
"The Mikado" is one of most famous and best-loved of Gilbert and Sullivan's operettas.
This iconic English National Opera production of Gilbert & Sullivan's "Japanese" satire takes the story out of the tiny oriental town of Titipu and sets it in the faintly seedy grandeur of a 1930s English hotel — the perfect place for lampooning targets much closer to home.
Full of high-kicking chorus lines, satirical touches and a wonderfully elegant score it tells the tale of Nanki-Poo and his love for Yum Yum. There's just one snag. She's betrothed to Ko-Ko, the new Lord High Executioner. And he needs someone to execute otherwise it's his own head on the block. Perhaps Ko-Ko and Nanki-Poo can come to some arrangement, without anyone losing their head?

Leading an all British cast of youthful talent and seasoned veterans is distinguished bass Robert Lloyd who sings The Mikado of Japan for the first time. Baritone Richard Suart is synonymous with the role of Ko-Ko. Once again he will charm and delight audiences in this comic role and his infamous "little list."
ENO Harwood Artist Mary Bevan returns to the role of Yum-Yum. Anthony Gregory, also an ENO Harwood Artist makes his role debut as Nanki-Poo. The cast is completed by Graeme Danby as Poo-Bah, George Humphreys as Pish-Tush, Yvonne Howard as Katisha and Rachael Lloyd as Pitti-Sing.
Miller's unique vision of a 1930s English, seaside hotel was immaculately captured by the late, celebrated stage designer Stefanos Lazaridis, a frequent collaborator with ENO for more than 30 years. The creative team includes costume designer Sue Blane, choreographer Antony van Laast and lighting designer Davy Cunningham.
"The Mikado" is sung and performed in English. It will be shown at the Mary D. Fisher Theatre on Sunday, Aug. 27, at 4 p.m. For tickets, call 928-282-1177 or visit www.SedonaFilmFestival.org. Both the theatre and film festival office are located at 2030 W. Highway 89A, in West Sedona.
More like this story