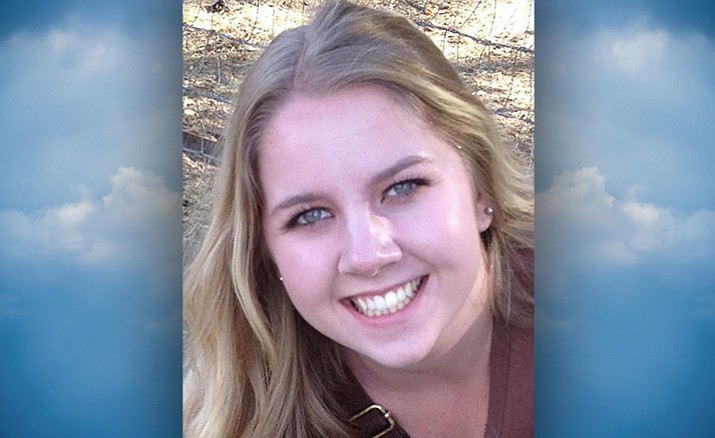 Originally Published: August 20, 2017 6 a.m.
Krista (Evers) Buchanan, Krista joined her Lord and Savior on July 17, 2017, at age 22. Krista was born and raised in Prescott, Arizona, and attended Washington School, Mile High Middle School and graduated from Prescott High School in 2013. She attended Liberty University where she earned her bachelor's degree in communications and graduated summa cum laude in May 2016. On July 30, 2016, she married her best friend, soul mate and the absolute love of her life, Jacob Buchanan. They resided in Phoenix and Krista was employed by Proactive Training Solutions.
Krista is survived by her husband, Jacob; parents, Randy and Connie Evers; sister, Jessica Evers; nephew, William Evers; grandmother, Joyce Evers; and grandfather, Roy Alvis. She is also survived by numerous aunts, uncles, and cousins and an incredible number of friends whom she considered family.
Krista was a light to every single person she met because everyone she met was someone she could talk to, smile at, give a hug to, and she truly never met a stranger in her life. To those who were lucky enough to hear her wonderful, fantastic laugh, or make her smile that stunning, beautiful smile, then you know how infectious and genuinely happy they both were. She always made you want to smile and laugh along with her, if only to hear and see them a little while longer. She cared so much about every single person she met, and was personally invested the moment she met them.
A memorial honoring Krista's life will be held at 3:30 p.m. Saturday, Aug. 26, 2017, at Heights Church with a reception immediately following at The Hassayampa Inn (Arizona Room). In lieu of flowers, the family suggests donations be made to Compassion International.
The family was assisted by Hampton Funeral Home.
Information provided by survivors.