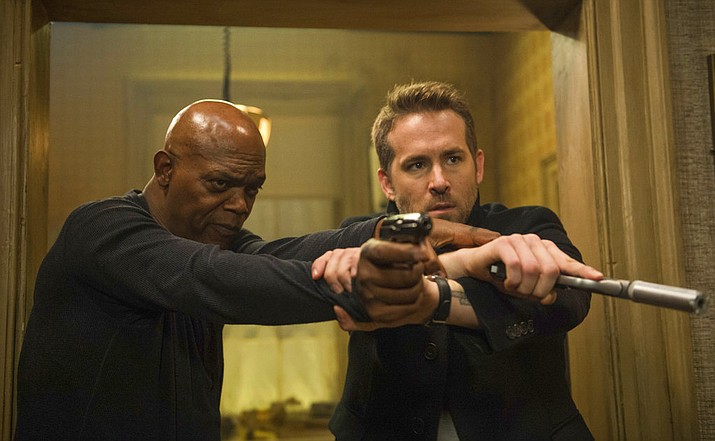 Originally Published: August 17, 2017 8:44 p.m.
Movies playing at Harkins Theatres, 7202 Pav Way, Prescott Valley (Highway 69 between Glassford Hill and Lake Valley roads). 928-775-7444; www.harkins.com.
(NEW) THE HITMAN'S BODYGUARD – The world's top protection agent (Ryan Reynolds) is called upon to guard the life of his mortal enemy, one of the world's most notorious hitmen (Samuel L. Jackson). The relentless bodyguard and manipulative assassin have been on the opposite end of the bullet for years and are thrown together for a wildly outrageous 24 hours. During their raucous and hilarious adventure from England to the Hague, they encounter high-speed car chases, outlandish boat escapades and a merciless Eastern European dictator (Gary Oldman) who is out for blood. Salma Hayek joins the mayhem as Jackson's equally notorious wife. Rated R for strong violence and language throughout. Action & Adventure, Comedy
(NEW) LOGAN LUCKY – Trying to reverse a family curse, brothers Jimmy (Channing Tatum) and Clyde Logan (Adam Driver) set out to execute an elaborate robbery during the legendary Coca-Cola 600 race at the Charlotte Motor Speedway. Rated PG-13 for language and some crude comments. Comedy
Also showing:
ANNABELLE: CREATION – A couple still grieving the death of their daughter take in children from a local orphanage, but the family are soon terrorized by a demented doll known as Annabelle. Anthony LaPaglia, Miranda Otto, Stephanie Sigman, Talitha Bateman, and Lulu Wilson star in this horror sequel from director David F. Sandberg ("Lights Out"). Rated R for horror violence and terror. Drama, Horror
ATOMIC BLONDE – Agent Lorraine Broughton (Charlize Theron) is equal parts spycraft, sensuality and savagery, willing to deploy any of her skills to stay alive on an impossible mission. Sent alone into Berlin to retrieve a priceless dossier from within the destabilized city, she partners with embedded station chief David Percival (James McAvoy) to navigate her way through a deadly game of spies. Directed by David Leitch, also starring Sofia Boutella, John Goodman and Roland Moller. Rated R, mystery/thriller.
THE DARK TOWER -- There are other worlds than these. Stephen King's "The Dark Tower," the ambitious and expansive story from one of the world's most celebrated authors, makes its launch to the big screen. The last Gunslinger, Roland Deschain (Idris Elba), has been locked in an eternal battle with Walter O'Dim, also known as the Man in Black (Matthew McConaughey), determined to prevent him from toppling the Dark Tower, which holds the universe together. With the fate of the worlds at stake, good and evil will collide in the ultimate battle as only Roland can defend the Tower from the Man in Black. Rated PG-13 for thematic material including sequences of gun violence and action. Horror, Science Fiction & Fantasy, Western
DESPICABLE ME 3 – Illumination continues the adventures of Gru, Lucy, their adorable daughters Margo, Edith and Agnes and the Minions in "Despicable Me 3." Directed by Pierre Coffin and Kyle Balda, co-directed by Eric Guillon and written by Cinco Paul & Ken Daurio, the animated film features the voices of Steve Carell and Kristen Wiig, as well as Tony and Grammy Award winner Trey Parker, the co-creator of "South Park" and the Broadway smash "The Book of Mormon." Parker voices the role of villain Balthazar Bratt, a former child star who's grown up to become obsessed with the character he played in the '80s, and proves to be Gru's most formidable nemesis to date. Rated PG for action and rude humor. Animation, Comedy, Kids & Family
DETROIT -- From the Academy Award-winning director of "The Hurt Locker" and "Zero Dark Thirty," "Detroit" tells the gripping story of one of the darkest moments during the civil unrest that rocked Detroit in the summer of '67. Rated R for strong violence and pervasive language. Drama, Mystery & Suspense
DUNKIRK – Acclaimed auteur Christopher Nolan directs this World War II thriller about the evacuation of Allied troops from the French city of Dunkirk before Nazi forces can take hold. Tom Hardy, Kenneth Branagh and Mark Rylance co-star, with longtime Nolan collaborator Hans Zimmer providing the score. Rated PG-13 for intense war experience and some language. Action & Adventure, Drama
THE EMOJI MOVIE – Hidden inside a smartphone, the bustling city of Textopolis is home to all emojis. Each emoji has only one facial expression, except for Gene (T.J. Miller), an exuberant emoji with multiple expressions. Determined to become "normal" like the other emojis, Gene enlists the help of his best friend Hi-5 (James Corden) and a notorious code breaker called Jailbreak. During their travels through the other apps, the three emojis discover a great danger that could threaten their phone's very existence. Directed by Tony Leondis, also starring the voices of Steven Wright, Patrick Stewart and Christina Aguilera. Rated PG, science fiction film/adventure.
THE GLASS CASTLE – Chronicling the adventures of an eccentric, resilient and tight-knit family, "The Glass Castle" is a remarkable story of unconditional love. Oscar winner Brie Larson brings Jeannette Walls' best-selling memoir to life as a young woman who, influenced by the joyfully wild nature of her deeply dysfunctional father (Woody Harrelson), found the fiery determination to carve out a successful life on her own terms. Rated PG-13 for mature thematic content involving family dysfunction, and for some language and smoking. Drama
AN INCONVENIENT SEQUEL – A decade after "An Inconvenient Truth" brought climate change into the heart of popular culture comes the riveting and rousing follow-up that shows just how close we are to a real energy revolution. Vice President Al Gore continues his tireless fight, traveling around the world training an army of climate champions and influencing international climate policy. Cameras follow him behind the scenes-in moments private and public, funny and poignant-as he pursues the empowering notion that while the stakes have never been higher, the perils of climate change can be overcome with human ingenuity and passion. Renowned filmmakers Bonni Cohen and Jon Shenk ("Audrie & Daisy," 2016 Sundance Film Festival) have taken the baton from 2006 Academy Award-winner Davis Guggenheim. What started then as a profound slide show lecture has become a gorgeously cinematic excursion. Our extraordinary former vice president invites us along on an inspirational journey across the globe that delivers the tools to heal our planet. The question is: Will WE choose to take the baton? Rated PG for thematic elements and some troubling images. Documentary
KIDNAP -- A typical afternoon in the park turns into a nightmare for single mom Karla Dyson (Academy Award winner Halle Berry) when her son suddenly disappears. Without a cellphone and knowing she has no time to wait for police help, Karla jumps in her own car and sets off in pursuit of the kidnappers. A relentless, edge-of-your seat chase ensues, where Karla must risk everything to not lose sight of her son. In this tense, action-fueled thriller, directed by Luis Prieto and from the producers of SALT and TRANSFORMERS, one mother's heroic attempt to take back her son leads her to ask herself how far she will go to save her child. Rated R for violence and peril. Action & Adventure, Drama, Mystery & Suspense
NUT JOB 2: NUTTY BY NATURE – Surly Squirrel (Will Arnett) and the gang are back. We are once again in Oakton where the evil mayor has decided to bulldoze Liberty Park and build a dangerous amusement park in its place. Surly and his ragtag group of animal friends band together to save their home, defeat the mayor, and take back the park. "The Nut Job 2" also features the voice talent of Katherine Heigl ("The Nut Job"), Jackie Chan ("Kung Fu Panda 3"), Peter Stormare ("Penguins of Madagascar"), Bobby Cannavale ("Ant-Man"), Isabela Moner ("Middle School: The Worst Years of My Life"), and Maya Rudolph ("The Angry Birds Movie"). Rated PG for action and some rude humor. Animation, Comedy, Kids & Family
SPIDER-MAN: HOMECOMING – A young Peter Parker/Spider-Man (Tom Holland), who made his sensational debut in Captain America: Civil War, begins to navigate his newfound identity as the web-slinging super hero in Spider-Man: Homecoming. Thrilled by his experience with the Avengers, Peter returns home, where he lives with his Aunt May (Marisa Tomei), under the watchful eye of his new mentor Tony Stark (Robert Downey, Jr.). Peter tries to fall back into his normal daily routine -- distracted by thoughts of proving himself to be more than just your friendly neighborhood Spider-Man -- but when the Vulture (Michael Keaton) emerges as a new villain, everything that Peter holds most important will be threatened. Rated: PG-13 for sci-fi action violence, some language and brief suggestive comments. Action & Adventure, Drama, Science Fiction & Fantasy
WAR FOR THE PLANET OF THE APES – In War for the Planet of the Apes, the third chapter of the critically acclaimed blockbuster franchise, Caesar and his apes are forced into a deadly conflict with an army of humans led by a ruthless Colonel. After the apes suffer unimaginable losses, Caesar wrestles with his darker instincts and begins his own mythic quest to avenge his kind. As the journey finally brings them face to face, Caesar and the Colonel are pitted against each other in an epic battle that will determine the fate of both their species and the future of the planet. Rated PG-13 for sequences of sci-fi violence and action, thematic elements, and some disturbing images. Action & Adventure, Drama
WONDER WOMAN – An Amazon princess (Gal Gadot) finds her idyllic life on an island occupied only by female warriors interrupted when a pilot (Chris Pine) crash-lands nearby. After rescuing him, she learns that World War I is engulfing the planet, and vows to use her superpowers to restore peace. Directed by Patty Jenkins (Monster). Rated PG-13 for sequences of violence and action, and some suggestive content. Action & Adventure, Drama, Science Fiction & Fantasy