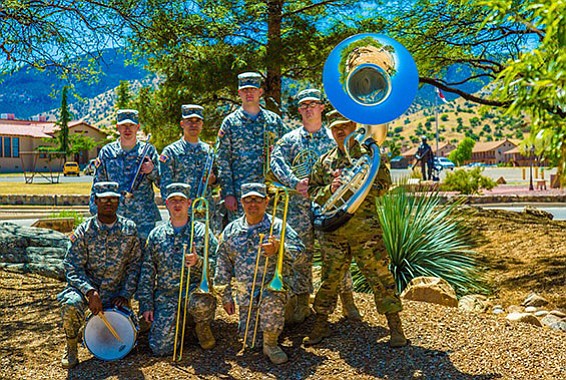 Originally Published: August 17, 2017 8:49 p.m.
Family-friendly, lively and fun. That's what the Prescott Valley Parks and Recreation Department asked the Arts & Culture Commission to find, said Prescott Valley Arts and Special Events Coordinator Hope Hooper, noting that the commission came up with Frontier Brass, one of the smaller ensembles connected to the United States Army Military Intelligence Corps Band.
Performing at the theater located at 7501 E. Civic Circle from 7 to 10 p.m. on Saturday, Aug. 19, the band's performance required a whole process to get them to come to Prescott Valley, Hooper said. However, it wasn't too difficult to do so, she said.
"They have paperwork to fill out, it is a couple months' process to get everything all approved … a lot of it was just waiting for approvals," Hooper said. "They've been very easy to work with and communicative with us."
There's going to be 13 band members coming up altogether and they'll have a space where they can relax when not on stage, she said, remarking that they're low maintenance and just happy to come to Prescott Valley and put on a show. It's free, too.
With this concert, the summer season winds down after several free concerts, Hooper said. At the same time, Parks and Recreation department is trying to grow the concert series and have a really solid schedule for next year, she said.
"We'll definitely be looking for talent and bands or musicians who are interested can always come to the Parks and Rec department and talk to us," Hooper said. "We'd love to grow the program more, especially for bands that are kind of self-sufficient and can bring their own sound."
The goal is to make every show free, like the Frontier Brass show, Hooper said, commenting it means more people will come and enjoy them.
A food vendor will be available for concertgoers to enjoy as well.
For more information, visit www.pvaz.net or call 928-759-3090.
More like this story