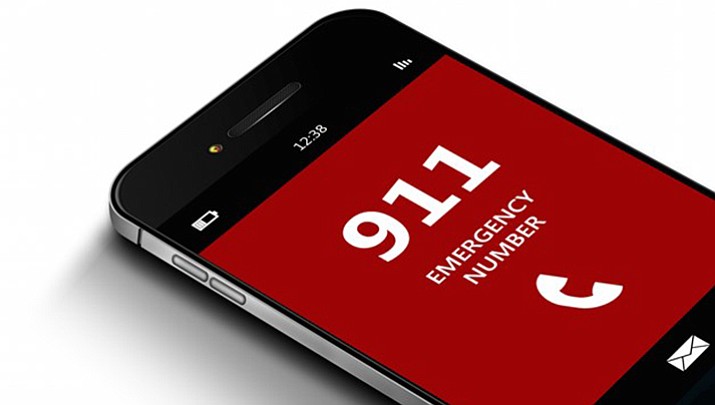 Originally Published: August 12, 2017 6:05 a.m.
When it comes to services within a municipality, health and welfare are tops — or should be.
Most people know that calling 911 is for an emergency.
But that has changed.
First, let's understand what 911 is for. A crime has occurred, an accident took place, someone's life is being threatened, for example.
That is why, when a caller to the 911 hangs up before speaking or early in the call, the dispatch center most often sends an officer to the location.
Gotta check how everyone is, right?
Many calls to 911 nowadays — those hangups; Prescott received 463 in 2016; Prescott Valley had 926 for the same year — end up being a child playing with the phone (excusable, but a teachable moment), or often are a call for information, a complaint about the service the caller received at a restaurant (seriously!), even a child having troubles getting dressed, as we have previously reported.
This follows the trend our hospitals' emergency rooms have seen (note the word 'emergency').
For instance, many people go to the ER because of symptoms anyone else would go to their primary care doctor for … a cold, achiness/influenza, allergies. And, we're not talking about those maladies that are life-threatening.
No, people often treat the hospital's ER like their corner drugstore, medical clinic or doctor — knowing that the people there cannot turn them away, and insurance or AHCCCS (Arizona Health Care Cost Containment System) will pay the bill.
They might even not care at all who has to pay, and they've decided they will not.
Those costs to the health care system are well documented, and we hear a lot about them in the news about the health care debate out of Washington.
However, those 911 hangups are another growing trend.
Some people I have spoken with about this are shocked to learn that, in Prescott, the dispatch call-takers have discretion as to whether they send a police officer to 911 hang-up call; while calls in Prescott Valley routinely merit a response.
Shock and awe ("How dare they deny us service.") versus tightening budgets, pension challenges, a dwindling or frozen workforce.
Something has to give.
So, what happened to people taking care of things themselves? What about personal responsibility?
Even a deep cut that requires stitches is a low-level emergency, according to the hospital. Their bigger concerns are on the level of heart attacks.
While both merit a trip to the ER, a sniffle or an itch do not.
Likewise, calling 911 should be more about I-need-help-now! emergencies.
Do authorities have to respond to the 911 hangup? No, they don't. Do we have to treat everyone who comes through the ER doors? I guess so.
Only through education — and maybe fines or fees — can we hope to get people to know the difference.
Health and welfare, huh? If I call 911 for a real emergency, I'd like to think my family and I will receive swift attention and not have to worry that the response is delayed because someone wanted to ask dispatchers for the weekly garbage pick-up time.