Originally Published: August 12, 2017 6 a.m.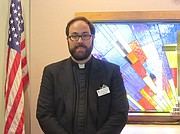 All Saints Anglican Church is excited to welcome Fr. Ian Emile Dunn as rector. His first Sunday at the church was August 6th. Prior to coming to All Saints, Fr. Dunn has served parishes in North Carolina, California, and Maine.
He holds a B.S. in Biology from Hillsdale College and an S.T.B. from Logos House of Theological Studies.
Fr. Dunn is enthusiastic to join All Saints for this new season for them. He is looking forward to getting to know the members, ministering to them and enjoying all the Prescott Area has to offer. He along with all the members of All Saints invite you to join them for Sunday worship at 10am. All Saints Anglican Church is located at 1806 N. Savage Lane in Prescott.
Chino Valley United Methodist Church Summer schedule: During the summer months, June 4 through Sept. 3, there will be only one service, at 10 a.m. This will enable people from both congregations to become better acquainted as well as welcome newcomers to the area. Adult Sunday school will meet weekly at 9 a.m. and children's Sunday school will be on the 2nd and 4th Sundays or each month at 10:15 a.m. The church is located at 735 E. Road One South, Chino Valley.
Join St. Germaine Catholic Church in Prescott Valley for its ongoing Patriotic Rosary, held the 3rd Saturday of each month at 9 a.m. The dedication was started by the Knights of Columbus and has been continued for the past four years by parishioners Ann Hillig and Mary Fiebiger. The Rosary is non-partisan and supersedes political affiliations. It's a consecration of the United States, each state and those who serve national, state and local governments. In inclement weather, it takes place in the parish hall. St. Germaine Catholic Church is at 7997 E. Dana Drive; 928-772-6350. patrioticrosary. com
Matthew R. "Matt" Kottman will be installed as the new Senior Pastor of the Solid Rock Christian Fellowship, formerly the First Baptist Church of Prescott, in tomorrow (Sunday, Aug. 6) morning's 10:30 a.m. service in the church's sanctuary, 143 North Marina St.
Mr. Kottman, 41, comes to Prescott from Leatherhead, England where for the last 10 years he has served as Senior Pastor of the Disciples Church. He and his wife, Dianna, went to England in 1997, as church planters with the Calvary Chapel Ministry, becoming the Youth Pastor and Worship Leader at Calvary Chapel in Spittal, Austria. Two years later he planted the Christliche Gemeinde Church in Klagenfurt, Austria. In 2003 and until 2007 he served as Assistant Pastor at Calvary Chapel in Twiickenham, England.
"A Message of Love, Hope and Finding Your Dream with the Four Agreements" is Bev Bostrom's topic at the Aug. 6, 11:00 a.m. service at Prescott Unitarian Universalist Fellowship. In addition, harp music by Adrienne Bridgewater will be included in the service. All are welcome at the fellowship house at 945 Rancho Vista Dr., Prescott.
As we start the new month of Av and the reading of the Book of Deuteronomy, we at Beit Torah (www.onetorah.org) welcome all to celebrate and explore Tu B'Av, the fifteenth of Av, Mon. Aug. 8. Tu B'Av is a day of games and fun, a bit like a Jewish Sadie Hawkins Day. Please call for location, directions and details: 928-237-0390, 227-0582 or email ansheitorah@cableone.net
This is the appointed time. Mount Zion Tabernacle is opening their doors for everyone Aug. 13 at 11 a.m. We are looking for children's church teachers. Service will be held in Prescott Valley Library, 7401 E. Civic Circle. Contact Pastor Michael Cannon 602-350-7362.
The end times will be the topic on Sunday morning, Aug. 13, in worship at Prescott Community Church, 3151 Willow Creek Rd. Many believe that there are numerous signs indicating that we are approaching, or are already in, the apocalypse. What did Jesus himself actually say about the period preceding the end of the world? Pastor Dave Ellis will address this question, and all are invited to attend and consider how Jesus' words on the end times can impact our personal lives today. Worship times are 9:00 a.m. for Connections Contemporary Worship and 10:30 a.m. for Classic Traditional Worship. More information is available at pccaz.org.
Daughters of Grace Ministries invites women to its fall Bible study. Enjoy a comprehensive study on the topic of Heaven taught by Melissa Fryrear, the ministry's founder. Melissa holds a Master of Divinity and is currently a doctoral candidate in the dissertation phase. Meetings will be held every other Monday from 9:00 to 11:00 a.m. beginning Aug. 21 at the Adult Center of Prescott (1280 E. Rosser Street). Nominal fee. Seating is limited so registration is required. For more information, go online to www.daughtersofgrace.org, email us at info@daughtersofgrace.org, or call (928) 848-7710.
The 2017 Benevolence Team Resources Workshop is being held on Aug. 25 from 10 a.m. to noon at the Heights Church, 2121 Larry Caldwell Drive, Prescott. The Benevolence Team Resources Workshop is hosted by the State of Arizona's DES Employment Service. The emphasis for this workshop will be to provide information regarding valuable, but lesser known programs that assist people in our community that reach out for help. We want our attendees to say "Wow, I didn't know they did that!" If you have ever felt that distributing benevolence funds might not be the absolute best way to assist someone in need or if you wished that you could go even further to help someone out, this event is for you! We will be gathering a group of representatives from resources in the area to explain their (primarily FREE) services. A few of the organizations participating include: The Coalition for Compassion and Justice, Stepping Stones Agencies, Northern Arizona Council of Governments (NACOG), Arizona@Work. It's not too late for churches to sign-up. For registration details, call Sheryl at DES 928-759-1673 or email SGillum@AZDES.gov
Come one, come all to our 4th annual used book sale at Prescott Valley United Methodist Church, 8944 E. Sommer Dr. (off Navajo). Friday, Aug. 25 from 9 a.m to 3 p.m. and Saturday, Aug. 26 from 9 a.m to 2 p.m.
St. Germaine Ladies' Guild Annual Book Sale, Aug. 25 and 26, 9 a.m. to 3 p.m. $1.00 hard cover books, $.50 soft cover books. 7997 E. Dana Drive, Prescott Valley.
St Luke Ebony Christian Church, 12191 E Turquoise Circle, Dewey, AZ presents 2017 Discipleship Conference. This event is FREE and open to the Community. Friday, Aug. 25 at 7 to 9:45p.m. and Saturday, Aug. 26 at 8 a.m. to 2 p.m. The doors open half hour prior to start time. Light refreshments will be served. For more information call 928-713-1655.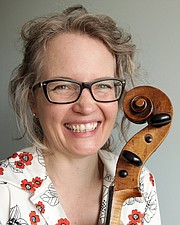 Trinity Presbyterian Church presents Sarah Walder, Cellist, in concert From Bach to Walder and More! Sunday, Aug. 27 at 3 p.m. Adults $10 - 18 and under $5. Tickets available at the door or see our website for advance tickets information.
Solos, duets and ensembles from Street Theater, Broadway, Operetta, Film, Zarzuela and Opera! Wow, nine talented singers will entertain and delight you with a variety of music from stage, screen and theater on Friday, Aug. 25 at Faith United Church on Old Chisholm Trail in the Prescott Country Club in Dewey. Your $20 donation at the door will include the concert as well as complimentary wine and appetizers. These concert events are always lots of fun---come join us! Call 928-533-4256 with any questions.