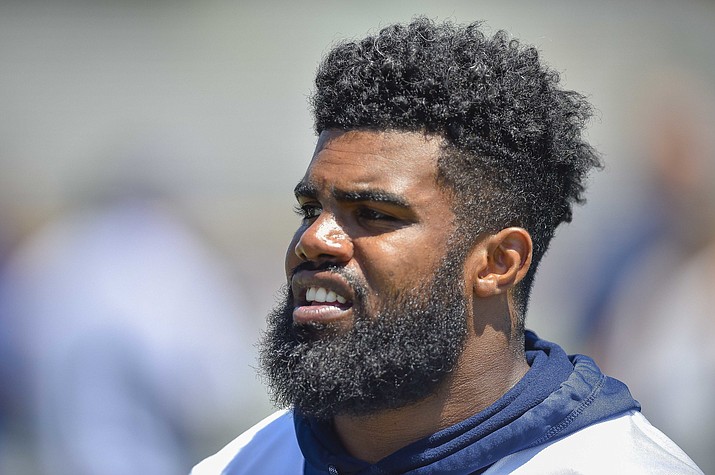 Originally Published: August 11, 2017 8:30 p.m.
DALLAS — The NFL suspended star Dallas Cowboys running back Ezekiel Elliott for six games Friday, concluding after a yearlong investigation that the league's leading rusher injured his former girlfriend in three separate incidents last summer.
According to the letter Elliott received informing him of the suspension, the NFL believed he used "physical force" three times in a span of five days in a Columbus, Ohio, apartment last July resulting in injuries to Tiffany Thompson's face, neck, shoulders, arms, hands, wrists, hips and knees. She was his girlfriend at the time.
Prosecutors in Columbus decided nearly a year ago not to pursue the case in the city where Elliott starred for Ohio State. In announcing the suspension under the NFL's personal conduct policy, the league said its investigation was based on photographs, text messages and other electronic evidence. Commissioner Roger Goodell made his decision based on the findings and in consultation with four advisers, including Hall of Fame player Ken Houston.
Elliott's ban means the Cowboys will have four players suspended when last year's NFC East champions start the season in a month — with the possibility of losing two more. The 22-year-old Elliot has three days to appeal the ruling, which his legal team said he would do while blasting the decision.
"The NFL's findings are replete with factual inaccuracies and erroneous conclusions and it 'cherry picks' so-called evidence to support its conclusion while ignoring other critical evidence," attorneys Frank Salzano and Scott Rosenblum said in a joint statement. "During the upcoming weeks and through the appeal, a slew of additional credible and controverting evidence will come to light."
Bills trade Watkins to Rams, get Matthews from Eagles
ORCHARD PARK, N.Y. — The Buffalo Bills' offseason overhaul isn't over yet now that receiver Sammy Watkins and cornerback Ronald Darby became the latest players to be sent packing.
The Bills dealt both starters in separate blockbuster trades on Friday in an effort to reshape the roster under new coach Sean McDermott.
Watkins was traded to the Los Angeles Rams, while Darby was sent to the Philadelphia Eagles. Buffalo addressed both positions by acquiring receiver Jordan Matthews from Philadelphia and cornerback E.J. Gaines from the Rams.
The Bills also continued looking to the future by further stockpiling 2018 draft selections. They acquired a second-round pick from L.A. and a third-rounder from the Eagles, while also sending a sixth-round pick to the Rams.
Buffalo now has two picks in each of the first three rounds next year after acquiring the Kansas City Chiefs first-round selection in April.
The additional picks provide Bills general manager Brandon Beane assets in a draft that looks as if it will have several top-end quarterback prospects. Bills starter Tyrod Taylor's future is uncertain beyond this season.
McDermott acknowledged his most difficult challenge was not merely breaking the news of Watkins' departure to Taylor.
"I'll take it a step further: How do you sell it to the entire team?" McDermott said, before outlining his message.
"You put one step in front of the other and we move on," he said. "I asked them to continue to trust me and our decisions in terms of what we're doing."
NBC moves 130 Premier League games to streaming service
NEW YORK — Trying to gauge what it can sell directly to cord cutters, NBC is launching its direct-to-consumer Premier League product with the start of the season this weekend.
The company still will air about 250 matches on its television networks, mostly NBCSN, NBC and CNBC. But 130 games are being moved to its stream.
Priced at $49.99 as "Premier League Pass," on NBC Sports Gold, those matches previously had been available to cable subscribers as Premier League Extra Time on overflow channels and as part of the regular NBC Sports app.
"We're cognizant of the media world changing and we have experimented with Tour de France in the past and cycling more broadly," said Rick Cordella, NBC Sports Group's executive vice president and general manager of digital media.
"We felt like it made sense to experiment and put this behind the pay wall."