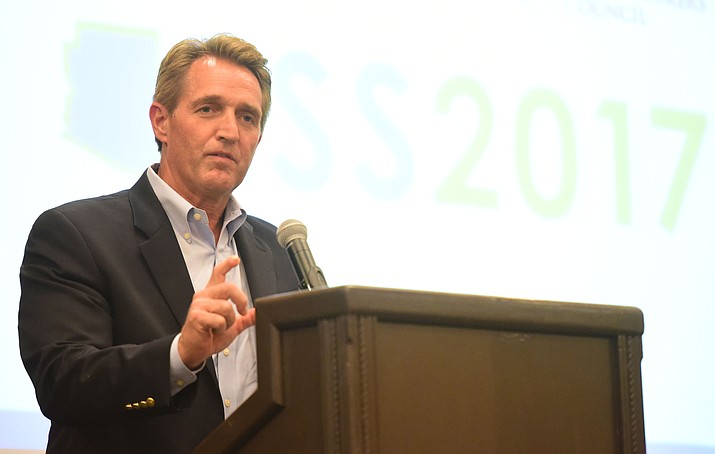 Photo by Les Stukenberg.
Originally Published: August 11, 2017 5:58 a.m.
During a visit to the Prescott area on Thursday, Aug. 10, Arizona Senator Jeff Flake took the time to tour the Goodwin Fire burn scar and then deliver a keynote address during the Arizona Chamber of Commerce 2017 Environmental and Sustainability Summit.
Every year, a topic of the summit is healthy forest initiatives, which Flake did address briefly in reference to his tour earlier that morning of the Goodwin Fire area.
"We've had such over-choked forests," Flake said. "Where there used to be fewer than 50 trees per acre, now we have on average more than 200 trees per acre, which means the fires that come through are just devastating."
Arizona State Senator Karen Fann, who attended the summit and heard Flake speak, said fire mitigation is a significant task that the state is working on addressing more seriously given that fires appear to be getting larger and more frequent.

"We need to clean up those forests," Fann said.
Flake told a gathering of business officials that the Trump administration is restoring the balance on environmental regulations from what he called the one-sided oversight of the Obama Administration.
The Republican said in a speech at an event arranged by the Arizona Manufacturers Council in Prescott that "it's a changed environment" from a year ago.
"We have a new administration, a new approach when it comes to resource issues, when it comes to the relationship between the federal government and the states and how we deal with issues like water and power generation, natural resources, grazing, forest health," Flake said. "We have a different and new approach and I would argue a better relationship and a better chance to make progress."
Republicans long criticized the Obama Administration on its regulations, and that's especially true in western states. Flake and others have complained about federal rules tightening standards on ozone, mining, and others designed to limit pollution but which the GOP argued are too far-reaching and costly for their benefit.
Flake particularly praised Environmental Protection Agency head Scott Pruitt, who he said is taking a more realistic approach. He said he's especially happy about the planned withdrawal of an EPA rule known as Waters of the United States or WOTUS regulating many more streams and wetlands.
"We cannot have a situation where protecting America's waterways involves regulating every dry ditch bed in Arizona," Flake said. "And that's about what the WOTUS rule would have done."
The state's junior senator is up for re-election next year and has been taking heavy criticism from some in his own party for the book he just released, which criticized his fellow Republicans for letting President Donald Trump lead the country away from conservative principles and staying silent as "the government of the United States has been made dysfunctional at the highest levels."
Flake drew laughs Thursday when he referred to that controversy.
"I don't always agree with this administration -- there's a book out there," Flake said. "But I can tell you on the regulatory front and the relationship between the federal government and the state on these issues I'm pleased with their response and their ability to sit down with us."