Originally Published: August 11, 2017 6 a.m.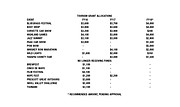 For years, we have reported on events that received a Tourism Grant Allocation from the City of Prescott. In nearly every story we have reported that the money came with this warning:
This is a temporary grant intended to help you get your event started, do not count on it every year. Also, the money is to be used to market your event to people outside the immediate market.
The Tourism Advisory Committee made its recommendations to City Council this week, recommending to award grants to 10 different events.
In the packet to Council, they included this:
"TAC followed the guidelines to the letter this year, therefore organizations that projected a small marketing budget were awarded a lower amount, even if they were awarded more in the past. As a result, overall, allocations are down this year by 37 percent to $25,350."
The Transient Lodging Tax, better known as the bed tax, is a 3 percent tax on hotel stays. The city is projecting to raise $820,000 from that tax this year and this is where the revenue comes for the grants.
The revenue is also used to market the city in advertising and for sponsorships of local events that bring in tourists, such as the Whiskey Off-Road ($30,000) or Frontier Days Rodeo ($20,000).
One of the events they recommended get a smaller grant is the Corvette Car Show, which is scheduled for September. Last year this event received a grant of $3,900. This year's recommendation is for $200.
The event brings in Corvette owners from far outside our region. Corvette owners stay at our hotels, and eat at our restaurants. And as anyone who has attended the event in the past will tell you, it's remarkable to see so many Corvettes take over downtown.
Prescott is better for having this event. The organizers donate money to charity, but it's not cheap to stage. They have to rent barricades and portable toilets.
Without the grant, they will have less money to give to charity.
The grant was not intended to pay for barricades and port-a-johns. It is intended to bring people who may not know a lot about Prescott here so they can see what a wonderful community this is for the first time and hopefully return, bringing others with them.
The Corvette owners already know that. If the Corvette event wishes more grant money in the future, all they have to do is spend more on marketing the event outside this market.
The TAC recommended 10 events receive grants, including one that has not received a grant before, the 12th annual Intertribal Powwow ($5,000).
We understand the shock Corvette Car Show organizers feel, and appreciate their event. But the grant has a very specific purpose and their event is not using it for that purpose.
In that case, the city is right to cut back the size of the grant.
More like this story