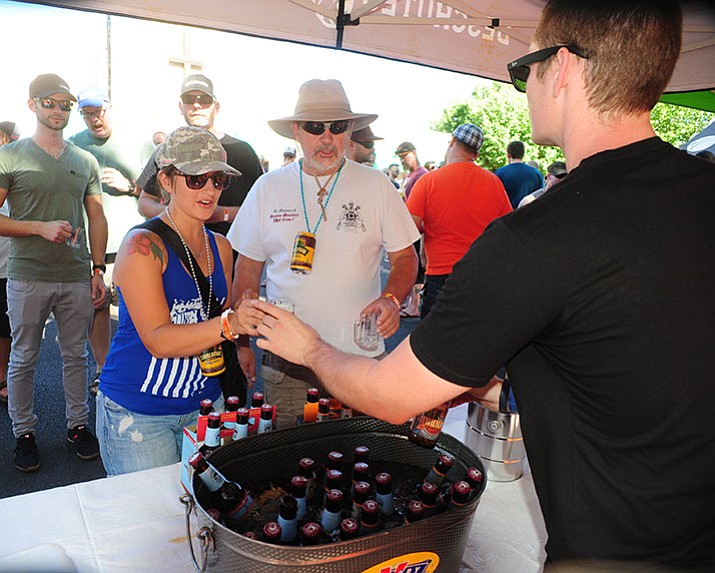 Photo by Les Stukenberg.
Originally Published: August 10, 2017 9:08 p.m.
The beer choices are abundant; the food is local and varied; and the atmosphere is lively.
Organizers of the Mile High Brewfest say the event – now in its sixth year – offers a slice of downtown Prescott at its best.
"It's a fun, energetic atmosphere," says organizer Kristen Kerns of the Brewfest, which is scheduled for 4 to 8 p.m. Saturday, Aug. 12, on Cortez Street between Gurley and Goodwin.
Along with 30 regional brewers and a number of local restaurants and food trucks, the event also features live music by Prescott band Southbound.
And the cause? Also local and worthy, says Kerns, noting that all the proceeds go to the Boys and Girls Club of Central Arizona.
Kerns, the development director at Boys and Girls Club of Central Arizona, says the Brewfest is one of the organization's main fundraisers of the year.
The money raised through the event helps the organization offer programs during the after-school hours of 3 to 7 p.m., which are the most at-risk for youth, she said.
Over the years, the Brewfest has grown in popularity, and last year, more than 2,300 people attended.
Tickets are available online for $25, or $35 at the door. The price includes a wristband that allows ticketholders to come and go as they please, as well as a souvenir pint glass, and 15 taster tickets.
Each taster ticket can be redeemed for a four-ounce sample from one of about 30 independent brewers. Kern said the brewers are from the Southwest – mostly from Arizona and California.
"The event gives people the chance to try beers they maybe wouldn't try otherwise," Kern said.
Also available at the event will be food from a variety of vendors: Tara Thai, Safari Samosas, Granite Mountain Smokehouse, Marino's Mob Burgers, Prescott Public House, and Cactus Corn.
Throughout the event, Southbound will be providing the live music – with everything from rock to country.
"It's a nice way to spend a cool evening in downtown Prescott," Kern said of the Brewfest.
The event's website notes that the Brewfest will occur rain or shine. It does not allow firearms, and no one under 21 will be admitted. All people consuming alcohol will be required to wear wristbands and must present the wristband and ticket for each tasting. People who appear intoxicated will be assisted out of the festival. "Please enjoy our event responsibly," the website states.
Tickets are available online at: https://tickets.beerfests.com/event/milehighbrewfest. Information is available at: http://www.milehighbrewfest.com/ or by calling 928-776-8686.