Originally Published: August 7, 2017 6 a.m.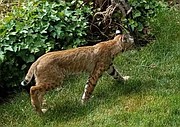 Residents of The Mountain Club are getting used to a new neighbor.
A bobcat was photographed July 25 in the yard of Keith and Susan Fleming on Hopi Drive and Aug. 4 in the driveway of Tracy and Nancy Williams on East Skyview Drive.
TMC's Jim Poore writes, "This may be two different animals, as the second one's tail appears to be a little stubbier, though it could be the lighting. ... Bobcats are a not-particularly dangerous part of our local wildlife. Keep yourself, kids and pets safe. Watch for signs of rabies — erratic behaving, such as attacking humans other than in self-defense."
Find guidelines on when and how to report animals to authorities at themountainclub.us.