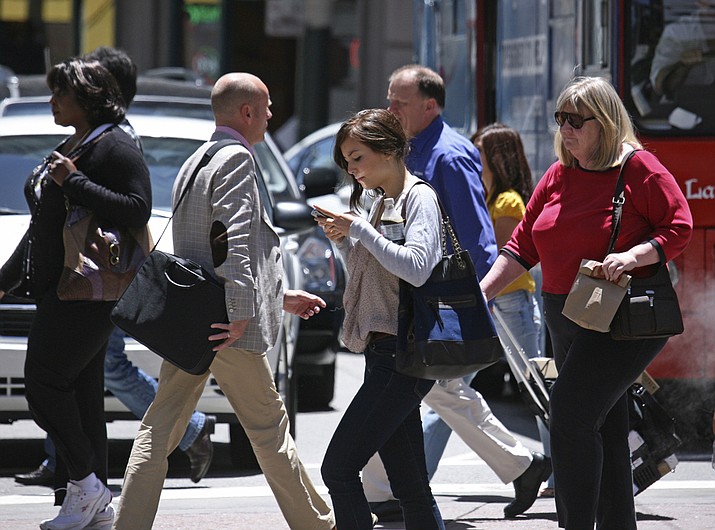 Originally Published: August 4, 2017 6:08 a.m.
Most Arizonans have long believed in individual freedom and passing as few laws as needed. That has been part of the character in this state for generations and you see it in no mandatory helmet law for motorcycle riders to a reluctance to force residents to put down their cellphones while driving.
So we can guess what the reaction of Arizonans would be to the Honolulu City Council passing an ordinance that mandates pedestrians put away their smartphones before using a crosswalk.
City officials point to a 2015 University of Maryland study that says more than 11,000 injuries were caused in the United States between 2000 and 2011 that were related to being distracted by a phone while walking.
The National Safety Council added "distracted walking" to its annual compilation of the biggest risks for unintentional injuries and deaths in the United States.
Starting on Oct. 25, if you use a crosswalk while staring at your phone in Honolulu, it could result in a fine between $15 and $99 (starts low, increases with each violation).
If you're calling 9-1-1 while in a crosswalk, you're fine. Emergency situations are exempt.
"We hold the unfortunate distinction of being a major city with more pedestrians being hit in crosswalks, particularly our seniors, than almost any other city in the county," Honolulu Mayor Kirk Caldwell said in a Reuters report.
Honolulu is the largest U.S. city to adopt a law like this. Other major cities are taking other actions to deal with "smartphone zombies," including London putting pads around its lamp posts so citizens don't hurt themselves when they walk into them.
This is a silly law, and it should be unnecessary. You cannot legislate common sense. One of the first things we were all taught by our parents was to look both ways before crossing a street.
Smartphones are amazing tools, something most of us have come to depend on. They have enhanced our lives in so many ways.
But we need to remember they are only a part of our lives. No one should be so careless to risk injury or death to read that text or see what's happening on Facebook.
We don't need silly laws such as a ban at looking at your phone while crossing the street. What we need is more common sense and thinking.
Be smarter than your phone, set a good example for your children and pay attention while you're crossing a street, then there will be no need for laws such as this one.
More like this story