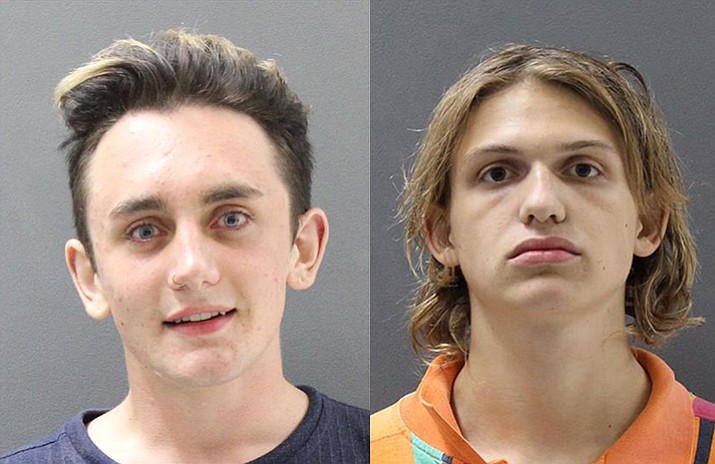 Originally Published: August 4, 2017 6 a.m.
Prescott Police arrested four people – two adults and two juveniles – on Sunday, July 30, for drug use at a campsite they had established in a field off Fordham Drive, according to a police report.
Officers responded to a report of suspicious activity at about 11:20 p.m. and found the suspects in an open area behind a house in the 3100 block of Fordham Drive.
The group was talking, and, as police approached the camp, they found a 17-year-old boy sleeping in the grass and three others awake.
One adult, 18-year-old Jared Mascher, was making "nonsensical statements" to the other two suspects, the report states. He was "sweating profusely and had wide-open eyes," according to the report, and an officer found marijuana and drug paraphernalia at the campsite.
Police woke the sleeping suspect, and all four admitted they had used "Molly," or ecstasy, the report states, as well as the marijuana.
Mascher reportedly told police the ecstasy and marijuana was "all his," and another suspect, Jake Tipton, 18, told an officer that Mascher was planning to sell the ecstasy.
Mascher was taken to the hospital for evaluation, and was later cleared and booked into the Camp Verde jail on charges of possession of dangerous drugs for sale, possession or use of dangerous drugs, involving or using minors in drug offenses, possession or use of marijuana and possession or use of drug paraphernalia.
Tipton was booked on a drug charge, and the two juveniles were released to their parents and will also face drug charges.
Mascher's father, Yavapai County Sheriff Scott Mascher, said his son will be treated like anyone else.
"Drugs are the scourge of our society, they ruin lives and destroy families," the Sheriff said. "I have not been involved in this case and it will be handled like any other investigation. I am devastated that my son chose to use drugs and no family is immune. His mother and I love him and will support him anyway to be safe and healthy."