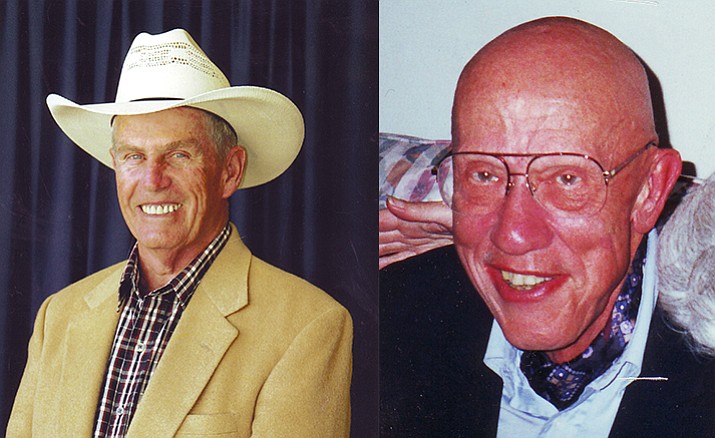 Originally Published: August 1, 2017 6:02 a.m.
The oversized hearts of two exceptional Prescott Noon Lions ceased to function this past June on consecutive days. They are Rich Savage and Art Filippino, both of whom have been vital cogs in club activities for many years while also earning top marks in the field of humanitarianism. And both, significantly, possessed an infectious folksiness leading to a colorful contagion.
I'll start with Rich, who died June 22 at home in the loving arms of his wife Pat, at the age of 78 following a long illness. He was a past president of the club and a staunch supporter of the Lions Camp Tatiyee (pronounced "TOTTY-uh") in Arizona's White Mountains, where individuals with special needs are treated to a week away from home in the summertime to enjoy activities and meet new friends. Rich served as a board member and for two years headed the board as president.
Rich is a transplant from Back East, having been born in Brooklyn along with three brothers and a like number of sisters. "My youth was pretty good," he said dreamily in an interview several years ago. "Got in school fights and street fights" on occasion, he mused, which sounded to me like a typical childhood for a Brooklyn lad. Dodgers icon Pee Wee Reese lived across the street from him, and Rich used to deliver groceries to Pee Wee and also fellow Dodger standout Duke Snider. There was "nothing special" about them, he said, as "they were glad to work with neighborhood kids on their day off" and tended to fit into the scheme of things like an old shoe.
Rich attended Catholic elementary school, where he played "a lot of school yard ball." And, to his credit, he served as an altar boy … but only for two days. His tenure was cut short when he was caught shooting craps in the boys' restroom at St. Patrick's Elementary. What happened, he recalled, was that "the priest came in and yelled, 'Get out of here and never come back!'" (And here I'd thought all along that priests were heavy into forgiveness. Shows how much I know.)
He went on to serve in the Marine Corps, where he also played football. However, his gridiron experience there featured more trauma than drama in that "I got killed! Those guys were GOOD!" I asked him what position he played, and he replied that "I THINK I was their practice dummy."
Rich's wife Pat, to whom he had been married for 56 years, relayed to me an anecdote involving Rich and Art at a Lions club meeting earlier this year. Rich had been in failing health for some time and, while the two of them were shooting the breeze prior to start of the meeting, Art joked to Rich that "you've been using up all my Medicare, so GET BETTER, hear?"
Yes, Art — like Rich — was quite quick with the quip. And his passing on the day following the loss of his friend came like a jolt, as he had been enjoying excellent health. His wife of 54 years, Irene, described his massive heart attack as a "painless death" when I spoke with her following Art's memorial service at the Sacred Heart Catholic Church. The July 25 service took place on what would've been Art's 88th birthday.
Art had a long and distinguished career in federal government work that included, among other pursuits, a four-year stint in our nation's capital — at the behest of the U.S. House of Representatives' Appropriations Committee — working with the FBI investigating white-collar crime — and 12 years of duty in London as deputy comptroller for the commander in chief of U.S. naval forces in Europe. And, on a local level, since he and Irene moved to Prescott in 1990 he has helped ramrod the Salvation Army's feeding the hungry project and also helped to establish both Project Aware (a shelter for homeless men) and a shelter for homeless women and children, along with many years of service as a master gardener volunteer with the University of Arizona Extension Service.
Irene noted that there has been ample humor over the years involving Art, but noted that "I can't recall one to top the one in Havana." Ah, yes, the Cuba connection. The year is unknown, but it was definitely B.C. — Before Castro) when Art was standing on a diving board at a public swimming pool when who should walk by at poolside in a bikini but Mamie Van Doren, a Marilyn Monroe look-alike whose measurements were 38DD-26-36! Well, Art couldn't help but notice, and in his excitement he promptly fell off the diving board. Normally, this would've been no big deal and involve a soft landing in the water. But the problem was that he landed on Ed Sullivan's head! Ed survived, of course, and went on to host the Beatles and Elvis, among countless others, on his weekly TV variety shows that spanned 23 years.
Another example of Art's humor involved the placement of his photo, of all things, in the Noon Lions club directory. You see, he was cheek by jowl with Frank Finley — a guy who is often the target of good-natured insults from club members, to which he always responds in kind — and Art said that he was thinking of changing his name to "Pfilippino" so as to not be Frank's next-door neighbor anymore. Hey, it would've worked!
In closing, I'd like to take note of a comment by Irene who noted that Art, bless his heart, was a true romantic. "While we were living in London," she said, "he was assigned to a Navy course in Montgomery, Ala., for three months. Before leaving home he went to our local florist and arranged for me to receive flowers each week he was away. The florist said that no one had ever placed such an order."
Art and Rich: they were "men for all seasons."
Contact the columnist at editorial@prescottaz.com.
More like this story