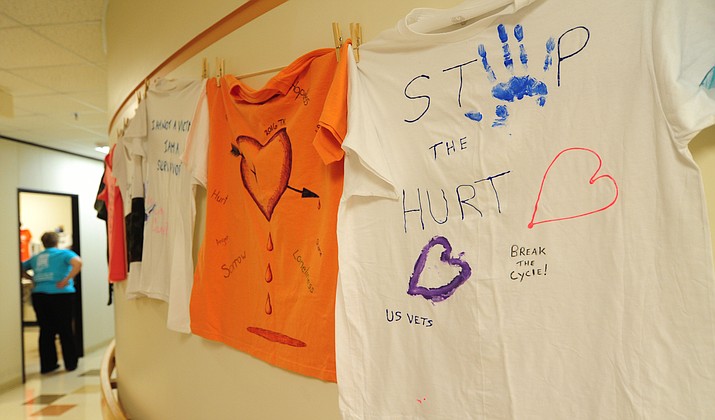 Photo by Les Stukenberg.

Originally Published: April 20, 2017 6:02 a.m.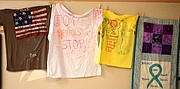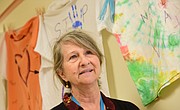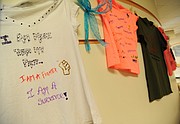 Eighteen T-shirts hanging in the lobby of the Northern Arizona Veteran Affairs Health Care System bear witness to the silent horror of sexual assault endured by far too many of this nation's patriots.
Called the Clothesline Project, these T-shirts are artistic reflections by local veterans, both male and female, who suffer what is today referred to as military sexual trauma; assault committed while these men and were on active duty.
The local VA started the project three years ago, with some of the T-shirts dating back to the start and others added each year.
All are powerful in their imagery – some painted with elaborate designs and words and others just a plain white T-shirt bearing a simple message: "Abuse is just not right."
"GI Jane won't be silent anymore," reads a camouflage colored T-shirt with the words blending together in blood red markers.
A new one this year from a Flagstaff veteran reads, "Can You See Me — Help please. I'm right here." Between the words is a piece of camouflage with hidden eyes. The sleeve bears an American flag patch and the back has appliqued letters that read, "Unseen Scars."
VA guest Tammie Williams winced as she looked at some of the shirts; their poignancy is a gut punch.
"It's a cool project. It gives a voice," Williams said as she looked at what is a public exhibit for the month of April that nationally is Sexual Assault Awareness Month and within the VA is Military Sexual Trauma Awareness Month.
The public is invited to visit the display in the main lobby of the medical center on the main VA campus off Highway 89 between 8:30 a.m. and 4 p.m. on weekdays through April 28.
"This needs to be brought to the surface of society. It's not something that should be stuffed. When you stuff it, it just goes on," Williams said.
The statistics of military sexual assault are staggering: 1 in 4 women in the military are sexually assaulted or traumatized and 1 in 100 men.
VA Military Sexual Trauma Coordinator Sharon Bowen said this project is part of the VA's ongoing commitment to helping veteran victims find healing from the indignity of assault and trauma that often are born in silence.
Veterans can sometimes feel an even deeper shame and hurt than other victims because the perpetrator may be a superior officer or even a peer they may have to live with while deployed in a foreign land, according to Bowen and other national VA leaders.
In the 1990s, with a national spotlight shined on the issue of sexual abuse within military ranks, the VA system opted to create positions at all of its health centers focused on providing assistance to veterans struggling with the ramifications of such trauma.
In her job, Bowen is a vigilant advocate for education, awareness and providing adequate mental health services for veteran victims. At the VA, Bowen offers individual counseling as well as group therapy for both men and women. Mental health counseling and treatments related to the post-traumatic stress are provided free of charge to any veteran who has been victimized during the course of their military career. In some cases, Bowen said veterans may not come forward for years after their discharge based on the negative impacts it has had on their ability to move forward in their lives.
"It's important for veterans to know that recovery is possible," officials declared.