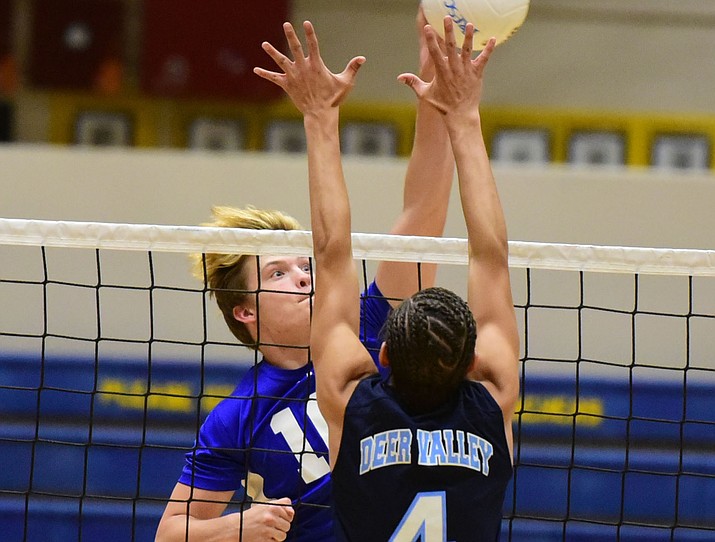 Originally Published: April 20, 2017 11:15 p.m.
Dallin Jex had five kills and six assists, Harris Temple chipped in with four digs, but the Prescott boys' volleyball team committed 19 attack errors for a -0.138 hitting percentage and remained winless on the season with a 3-0 loss to Deer Valley on Thursday night.
It is the 17th straight loss for Prescott (0-14, 0-1 Phoenix) dating back to the inaugural 2016 season.
Photo Gallery
PHS vs Deer Valley Volleyball 042017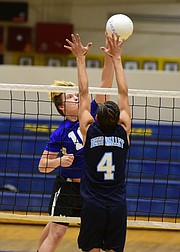 Deer Valley barely grabbed the first set 25-20, but found a way to shut down the Badgers in the next two sets, 25-12 and 25-9 for the sweep.
Despite the losses, Prescott is only in its second season as a program, and head coach Josiah Ramirez remains optimistic.
"These guys have only been playing for two months," Ramirez said. "They're starting to understand the game a lot more and they're playing a lot better together. It's just like learning any new skill, they need some time."
Junior captain Coltin Farnsworth said the team is a lot more confident.
"A lot more … than the beginning of the season," Farnsworth said. "We were scared of everything and we weren't all friends." Jex also commented on the dynamics of this year's squad.
"We had a lot of young guys that when they came out here they did not know what they were doing," Jex said. "But we've put in work, we're focused on the little things and getting more confident as we go along."
Although the squad has a dismal record, the camaraderie is strong.
"We have group chats, we hang out with each other inside and outside of school," Farnsworth said. "To achieve good teamwork we are just friends with each other. Friends always work together well and that's just what we focus on."
Jex agreed.
"We've definitely bonded outside of practice," Jex said. "Hopefully we can turn that around and get some wins out of it."
The Badger's losing season is rapidly drawing to a close, but the team remains hopeful for next year.
"I see [next season] going way better than this season," Farnsworth said. "We have two freshman on our team and they're both star players, and the more practice, the better we'll get."
UP NEXT
Prescott heads to the Westwood Invitational today, opening with Mountain Pointe at 7:45 a.m. The Badgers don't return home until Monday, May 1, when they host Cactus in the season finale.
Haley Parson is a stringer for The Daily Courier. Follow her on Twitter at @Haley_Parson22, or reach her by email at sportsdesk@prescottaz.com.