Originally Published: April 20, 2017 6:01 a.m.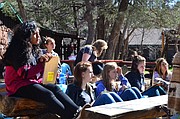 The Launch Pad Teen Center will host its fourth annual Women's Empowerment Breakthrough (WEB) Conference beginning Friday, April 28, through Sunday, April 30, at the 4-H Camp on Mingus Mountain.
The three-day retreat is designed to educate and empower teenage girls in Yavapai County, offering 20 different workshops to provide girls diverse opportunities to learn about themselves.
All of the workshops are taught by women volunteers in Yavapai County who are experts in their various fields.
Throughout the conference, girls will learn about such things as aerial silks, changing the oil in a car, how to have healthy relationships, nutrition, arts, mental health, chocolate making, writing, dance and more.
WEB was conceptualized in 2002 after a review of local statistics revealing that adolescent girls are facing challenges such as negative body-image, eating disorders, teenage pregnancy, sexual violence and low self-esteem. WEB's creation was based on the firm belief that in order for teens to articulate their boundaries and make healthy life choices, they must be supported, feel connected, and develop a strong sense of self-worth and commitment to their broader community. The aim of the conference is to equip young women with the knowledge, community and support that they need to gain self-confidence, develop their sense of self, and build community.
For more information, call Launch Pad Director Courtney Osterfelt at 928-632-2996 or email Laura Tully at laura@thelaunchpadteencenter.org.
More like this story