Originally Published: April 20, 2017 7:59 p.m.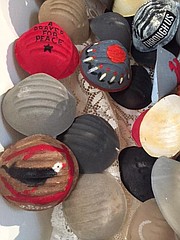 Related art projects at Sam Hill Art Center this spring draw attention to the consequences of uranium mining and ask important questions about the costs of nuclear development.
In 1944 the first of thousands of uranium mines opened on the Navajo Nation. They supplied radioactive material for the bombs that fell on Hiroshima and Nagasaki and eventually provided 30 million tons of uranium for the country's cold war arsenal. One of uranium mining's tragic legacies is that, even though the risks were known, Navajo miners were not provided the most basic safety training, or personal protection.
Yellow Dirt Testimony, an installation developed by award winning sculptor Edie Dillon, is a 15-foot mushroom cloud comprised of hundreds of individually decorated dust masks submitted from around the country. It makes the connection between Navajo mining and the physical, emotional, and spiritual effects of living downwind in the age of nuclear proliferation.
Dillon began the project after attending an educational program, Hope and Trauma in a Poisoned Land, based at Flagstaff's Coconino Center for the Arts. It was designed to give artists a voice in what has been called a slow motion environmental and social catastrophe. Dillon said, "As I talked to people about uranium development in the Southwest, I saw that the impacts are both wide and deep; from the miners who did not have even dust masks for protection, to people who lived here during the nuclear testing during the '50s and '60s and were literally downwind, to those of us who hid under desks as children in the "duck and cover" days. All of us have had to harden ourselves to accept an unacceptable reality; that humans have both the capacity and willingness to destroy life on a massive scale. I think this has had a profound spiritual cost."
Yellow Dirt Ceremony is an evening art ritual designed to facilitate a restorative healing process. Following a brief presentation at the Prescott College main campus, participants will represent the choice of renewal over destruction by creating art on dust masks. The group will walk to the Sam Hill Art Center and, place the masks with the mushroom cloud, and share offerings of music and poetry. Jenna Trizzino conceived the evening art ritual as her senior thesis project at Prescott College, where she is earning a BA in Arts and Humanities. Yellow Dirt Ceremony will begin outside Prescott College Crossroads Center at 4 p.m. on April 27.
Sam Hill Art Center is open Tuesday through Saturday, 11 a.m. to 3 p.m. In addition to viewing Yellow Dirt Testimony, visitors can see Aurora Berger's exhibition of photographs, Life on the Line.
Following the exhibition at Prescott College, the mushroom cloud will be exhibited this August in "Hope and Trauma in a Poisoned Land" at the Coconino Center for the Arts. The education program and exhibit are a partnership between Cameron Chapter House of the Navajo Nation, Flagstaff Arts Council, University of New Mexico Community Environmental Health Program and Northern Arizona University.