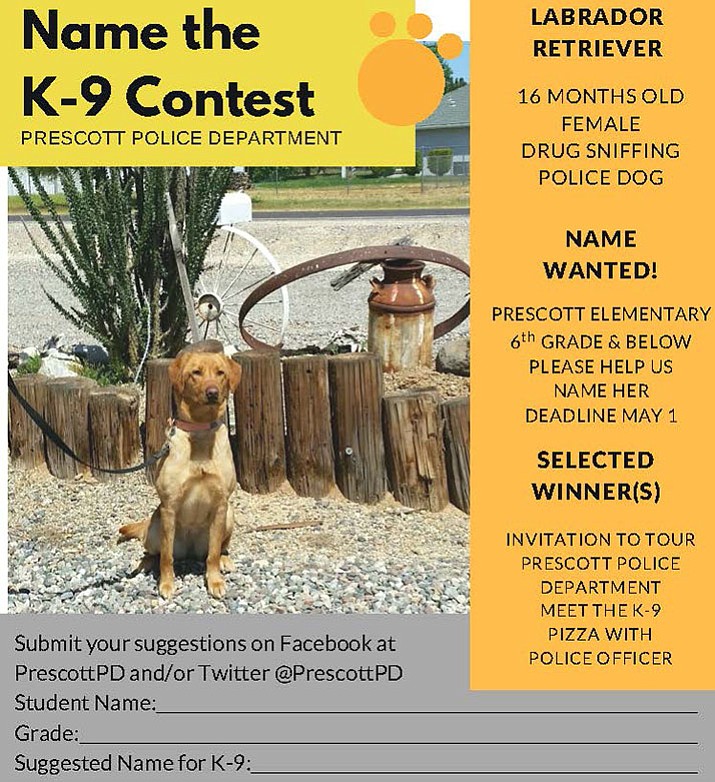 Originally Published: April 19, 2017 6 a.m.
The Prescott Police Department, through the generosity of the Yavapai County Community Foundation, was the recipient of a recent K9 grant. The department's newest member, a 16-month-old Labrador Retriever, will arrive the first week of May and will be trained as a single-purpose, drug-sniffing police dog.
PPD wishes to welcome her to the agency and give her a proper name; however, they need some help. They're asking for Prescott elementary school children, in sixth grade and below, to help name her.

They encourage children, with the help of their parents, to visit PPD on Facebook at PrescottPD and/or Twitter @PrescottPD, and submit their suggestions.

"We hope area children will be creative and have fun with this venture," a PPD press release stated.
Deadline for submissions will be May 1. Entries should include the child's first name and school they attend.
A committee consisting of PD personnel and City of Prescott staff will select a deserving winner. Winner/s will receive an invitation to come and tour the Police Department and meet the new dog and her officer. Pizza might be involved, too.