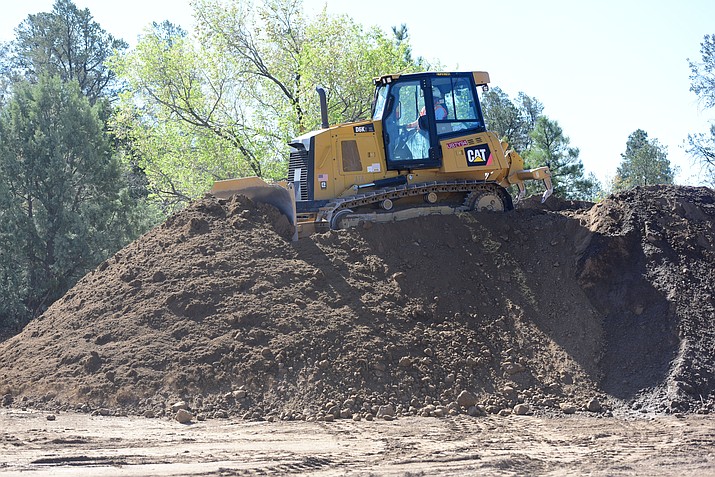 Photo by Les Stukenberg.
Originally Published: April 19, 2017 6:02 a.m.
The clean-up efforts on the former Prescott Sportsmen's Club shooting range near Wildwood Estates and Iron Springs Road are nearly complete.
Removal of contaminated stabilized soil should wind up in the next week or two, said Anne Fischer, on-scene coordinator with the U.S. Department of Agriculture, Southwestern Region of the Forest Service.
Gun enthusiasts using the range from 1957 through 2014 left fragments of bullets, shot pellets and other miscellaneous debris on the 25-acre site.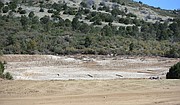 The Forest Service conducted several assessments of lead concentrations in the soil in 2002, 2007 and 2016. The latter evaluation tested 408 soil and sediment samples, and results indicated lead concentrations up to 28,000 mg/kg, which exceeds Residential Soil Remediation Levels (RSRL) of 400 mg/kg.
Under the federal Environmental Protection Agency's CERCLA (Comprehensive Environmental Response, Compensation, and Liability Act, known also as Superfund) listing, the Forest Service made a decision to conduct an environmental remediation process.
Beginning in November 2016, the contractor, Engineering/Remediation Resources Group (ERRG), began removal and disposal of soil containing lead concentrations above the recommended remediation level, excavating about 4,385 cubic yards. This area has been hydroseeded and straw wattles placed for erosion control.
In January, ERRG excavated the remainder of the site, placing contaminated soil temporarily in an onsite stabilization cell. Here the soil was put through a 3-inch screen. The material left on the screen, with concentrations less than the RSRL, was returned to the site.
The material passing through the screen was mixed with Portland cement, part of the stabilization/solidification operation. The study recommended a 1:14 cement to soil ratio for a 99 percent efficiency. This would allow the soil to conform to the toxic characteristic leaching procedure for lead with a limit of 5 mg/L.
ERRG applied and mixed the cement multiple times to achieve effective stabilization, Fischer said in her report dated April 3. Because of wet weather conditions the clean-up effort was shut down until March 13.
Beginning March 20, workers started the hauling and disposal of the stabilized material to the Waste Management of Arizona-Butterfield facility near Phoenix. The contractor also used water trucks to wet the surface for dust control.
Fischer indicated an expected completion date, after final grading, erosion control, and seeding, to be within the next two weeks.