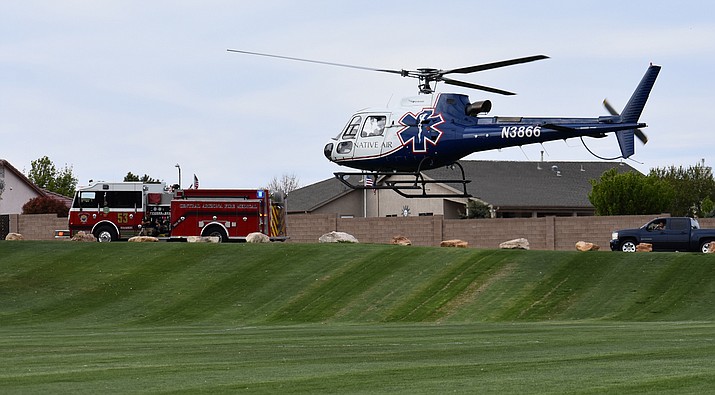 Photo by Richard Haddad, WNI.
Originally Published: April 16, 2017 6:02 a.m.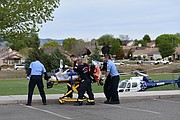 An ambulance ride, if you're in an automobile crash or fall and break a leg, comes with a steep price tag; in Yavapai County, it can cost over $1,600.
If you need especially urgent treatment, or to be flown by a medical helicopter to a Phoenix trauma center, the cost can be well in excess of $10,000, sometimes twice that.
The problem, of course, is that insurance does not cover the entire transport bill, and paying the out-of-pocket cost can be a hardship.
But in this area, there's help available, if you plan ahead. Here's how to do it.
Life Line Ambulance
Life Line Ambulance, owned by American Medical Response, is nearly a monopoly in the Quad Cities. (Mayer Fire also operates its own ambulances.)
Life Line offers a cost-saving "subscription" plan that costs $50.73 a year.
When subscribers need what Chief Operating Officer Glenn Kasprzyk calls "medically necessary" emergency or non-emergency ambulance transportation, they pay nothing out of pocket. The "Life Care" subscription covers whatever insurance does not.
It covers all family members who live in the subscriber's home as well.
There are roughly 5,000 subscribers in Life Line's coverage area.
"Today, we have folks with high-deductible (insurance) plans, we have Medicare patients with a high deductible," Kasprzyk said, and this plan is useful "even if they don't use it for two or three or four years, because of all the high-deductible plans and the cost of health care … if you have an ambulance trip and your out-of-pocket cost was a thousand dollars," you would still save hundreds of dollars.
Ambulance billing is done primarily based on the distance driven plus a base fee and cost of drugs or materials used.
That means the farther a patient is from the hospital, usually Yavapai Regional Medical Center, the more expensive the trip will be.
Kasprzyk said that is a good reason for people living in Chino Valley or Paulden, for example, to subscribe.
He said a hypothethical patient living in Paulden, 26 miles away from YRMC, would have a base plus mileage of $2,000, and that doesn't include medical supplies that might be required.
Subscriptions are taken only in September, and last for one year. Call 928-445-3814 for more details.
Native Air helicopter
Medical helicopters work somewhat differently. Native Air, owned by Air Methods, operates two in this area — Native 4 and Native 14, with one based at each campus of YRMC. But if both are tied up or if more aircraft are required, which happens from time to time, a helicopter from Guardian Air in Flagstaff may be dispatched. On rare occasions, a Department of Public Safety helicopter might be used.
Native and Guardian are both owned by Air Methods, a Denver-based company.
Spokesperson Christina Ward declined to give The Daily Courier an average cost for a transport or to explain specifically how that cost in calculated. "Our charges are comparable to average charges by other non-hospital affiliated air medical service providers," Ward said in an email.
"We work with patients one-on-one to help them receive reasonable and appropriate reimbursement from their insurance company and to determine what they can reasonably pay," she said. "After the emergency is over, our team of patient advocates work with our patients to help them navigate the complex and often frustrating process of seeking fair reimbursement from insurance companies."
The company offers a subscription plan to cover the cost that insurances does not. "Air Methods Advantage" membership plans cover out-of-pocket costs for medically necessary flights.
The plans start at $40 per year, and family plans cost $75 annually for members with primary health insurance coverage. Family memberships provide coverage to the member, their spouse or partner and their dependent children younger than 26, including dependent adults who live with them and are covered by health insurance.
Advantage covers you in 35 states where Air Methods operates.
Even those without insurance can buy a membership, and it will cover the complete cost of transport.
Call 855-877-2518 for more details.
Neither the Life Line or Air Methods plans are retroactive; you must have purchased them before the need arises.