Originally Published: April 14, 2017 9 a.m.
Updated as of Saturday, April 15, 2017 6 AM
A 7-year-old boy who had been hiking the Constellation Trail with his grandmother Thursday evening, April 13, went for help when she fell and broke her leg, according to Prescott Fire spokesman Conrad Jackson said.
The boy went back to the parking lot and found people with a cell phone at about 6 p.m. and asked them to call 911, saying that his grandmother didn't have cell service in the spot where she fell.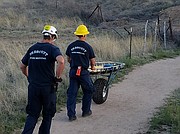 Prescott Fire and Life Line Ambulance crews responded, and the boy led them about a half-mile up the trail, Jackson said, and they brought in a Stokes basket mounted on a large wheel to bring the 59-year-old woman out.
It took 90 minutes, but she was treated, carried back to the parking lot, and taken by ambulance to Yavapai Regional Medical Center.
Jackson said the fire department "would like to commend the young man who hiked out alone to help his grandmother.
"He was a capable, self-assured fellow who remained calm throughout the event and helped lighten the mood of everyone present," Jackson added.