Originally Published: April 13, 2017 8:39 p.m.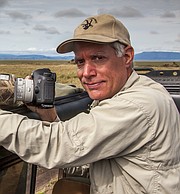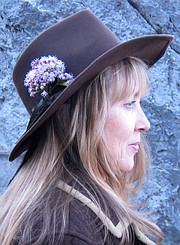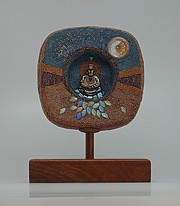 "Universal Threads," the new exhibit opening April 15 in the 'Tis Mezzanine Gallery, relates to both artists/explorers in a display subtitled "Fine Art and Photography from the Traveler's Experience."
Fine artist Carla Woody and photographer Michael McDermott share their work with the public from April 15 to May 14. The artist reception takes place during 4th Friday Art Walk, April 28, from 5 to 8 p.m.
Woody's creations use mixed media, beadwork and oils. Her subject matter comes from her visits around the country and the world. She painted "Faces in the Sun" after passing a field of sunflowers in Ohio and observing their beauty.
"The Visitation," an eerie depiction of the Callanish Stones in northern Scotland, was inspired by the image of physical bodies left behind after death. Birth and rebirth appear in the Raven depicted in "Moonrise."
Woody also paints about the Mayan, Incan, Hopi and Bali cultures. Her beaded 3-dimensional art incorporates vintage and Czech glass beads, feathers, paint and resin clay.
She lived in Paris as a young girl and traveled throughout Europe with her parents. Her work also is influenced by indigenous peoples and ancient traditions, and conveys a sense of the sacred. She has practiced meditation for more than 30 years.
McDermott has visited more than 35 countries, always excited to learn more about cultures. His work has been published in several magazines and calendars, most recently in "Arizona Wildlife Views", where he earned an honorable mention for his Gila monster photo.
He travels often to increase his growing portfolio of people, geography, nature and unusual signage. Recently returned from a two-week adventure in Myanmar, he gathered photos by traveling from village to village by canoe, horse cart, hot air balloon and motorbikes. Other travels have taken him to Kenya, Tanzania, Morocco, Botswana, Cambodia, Thailand, China, New Zealand, the Caribbean, and many countries in Europe, Central and South America.
A Prescott resident since 2014, McDermott is the owner and primary photographer of Fotos Along the Way, LLC, where he offers his nature and travel images for sale.
Paired with McDermott for this show, Woody said, "It appears we've equally traveled in as many far-flung places, and share intent to express the richness of those lands and people."
'Tis Gallery is located at 105 S. Cortez St. in Prescott; 928-775-0223. Hours are Sunday, noon-5 p.m.; Wednesday, closed; all other days 10 a.m.-5 p.m.