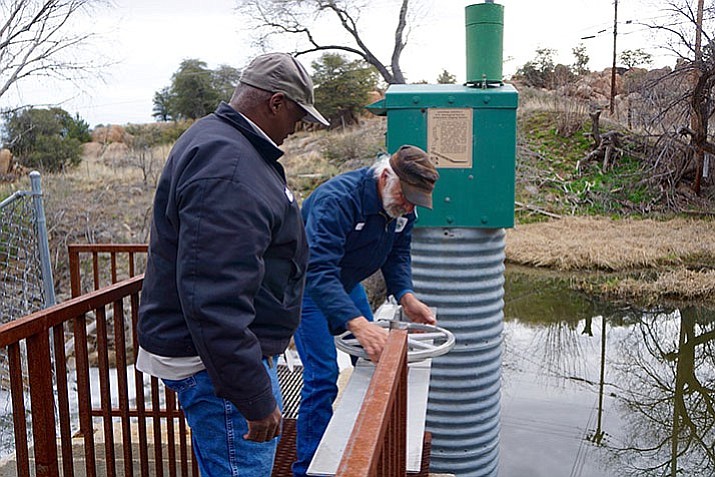 Photo by Cindy Barks.
Originally Published: April 12, 2017 6 a.m.
For nearly three decades, Prescott voters have overwhelmingly agreed: Local budget control is preferable to a state-imposed limit.
The choice is expected to go to the voters again this year with a vote on the "home rule option" – an alternative expenditure limitation that allows the city to set its own budget though a public-hearing process, rather than adhering to a state limitation.
If approved by the council later this month, the home rule option (Proposition 442) will be one of two propositions that Prescott voters decide on Aug. 29.
Also on the ballot will be a decision on whether to increase the city sales tax by 0.75 percent to help pay down the city's unfunded liability with the Public Safety Personnel Retirement System (PSPRS), as well as the candidates running in the primary for Prescott Mayor and City Council.
The Prescott City Council conducted its first public hearing on home rule on Tuesday, and will have another on April 25, after which a vote is expected on placing the measure on the ballot.
Budget and Finance Director Mark Woodfill told the council that voters have approved the home rule option seven times – in 1989, 1993, 1997, 2001, 2005, 2009, and 2013. Four years ago, voters approved the measure by roughly a 2-1 margin (7,370 yes, 3,716 no).
A city memo explains that the home rule option came about after a statewide voter-approved initiative in 1980 — Arizona's response to California's Proposition 13.
The 1979-80 budget became the base year budget, and annual adjustments are made to reflect population growth and inflation impacts, according to information from the city.
Woodfill noted that being required to use the state limitation would have a dramatic impact on the city's budget.
Under the home rule option, he said, the city's budget for the 2018-19 fiscal-year budget would be allowed to total as much as $164.8 million. On the other hand, under the state limitation, the city's budget would be allowed to be $112.7 million.
A city memo points out that although the state limit is adjusted for inflation and population growth, "It does not take into account significant cost increases associated with providing safe drinking water, wastewater operations, and construction cost indexes."
Because of changes in regulations and the environment of water and sewer options since 1980, "The city has seen significant increases in costs associated with implementing drinking water treatment, increased complexity of treating wastewater flow, increased aquifer recharging operations, and dramatic increases in construction cost," the memo added.
Without the home rule option, officials say Prescott's budget would be required to be about 23 percent lower than its expected revenues and expenses, and "dramatic budget reductions would be imposed."
Tuesday's public hearing generated limited discussion by the council members, and no comments from the public.