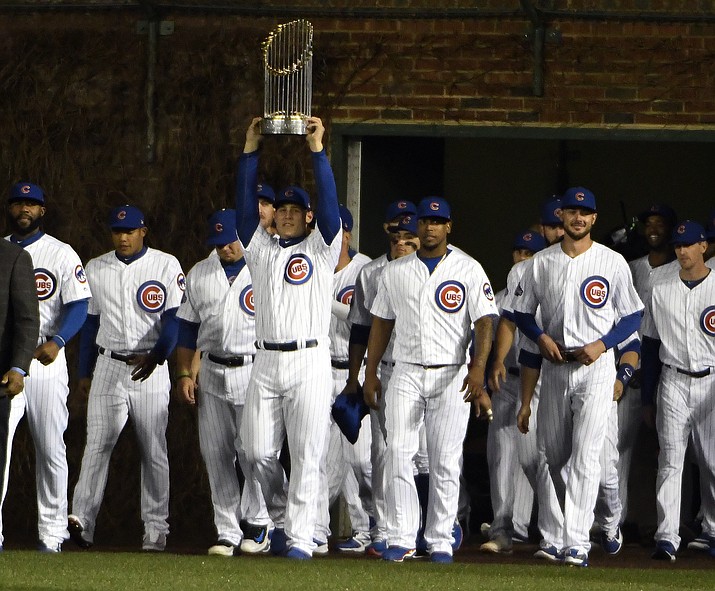 Originally Published: April 10, 2017 10 p.m.
CHICAGO — Finally, a banner moment at Wrigley Field.
The Chicago Cubs raised their 2016 World Series championship flag Monday night, delighting a raucous crowd that waited through a long rain delay for a moment more than a century in the making.
Hall of Famers Ryne Sandberg, Fergie Jenkins and Billy Williams raised banners for the franchise's two previous championships and last year's NL pennant. First baseman Anthony Rizzo had the initial honors for the drought-busting title flag before the rest of the Cubs took their turn.
Rizzo then brought the championship trophy out when he returned to the field from under the bleachers, drawing more cheers prior to Chicago's home opener against the Los Angeles Dodgers — which was delayed by rain for nearly two hours.
It was a moment generations of fans never got to witness. Even more wondered if they would ever get the chance.
But that all changed when the Cubs beat the Indians in a thrilling Game 7 at Cleveland last fall for their first championship since 1908.
Wrigley Field opened in 1914 but the "Lovable Losers" didn't move in until 1916.
"The best part about last year was we all got to be part of something bigger than ourselves," said President of Baseball Operations Theo Epstein, the architect of a top-to-bottom overhaul that ended years of heartbreak and frustration on Chicago's North Side. "Feel connected to each other and the fans and the organization and the city and you know, they say all glory is fleeting, and it is, but the flag will fly forever and that feeling of being part of something bigger than ourselves will last forever, too. I think, to me, that's what it symbolizes."
Epstein knew all about ending curses and droughts when he came to Chicago in October 2011. He won two championships as Red Sox general manager, the first for Boston since 1918. And he helped end the longest drought in North American professional sports last season following a major overhaul of the franchise.
In some ways, the celebration is still going strong. The flag-raising along with the ring presentation Wednesday figure to put the final punctuation marks on it.
But on Monday, Kris Bryant felt as though he was arriving for a playoff game. The reigning NL MVP saw fans braving the rain and jamming the neighborhood, particularly the sparkling new plaza outside Wrigley Field.
"This place is unlike any other," Bryant said.
The ivy-covered outfield walls, manual scoreboard, neighboring rooftops and location in a vibrant residential neighborhood packed with restaurants and bars create a unique atmosphere. Some players and executives, including Epstein, choose to live in the surrounding blocks, adding to the bond between the fans and a franchise long defined by heartbreak.
On Monday, there was just another wild celebration.
There were fans re-living Game 7 against Cleveland in the new plaza about three hours before the scheduled first pitch, cheering every hit as if it was Nov. 2 all over again. They were watching on a high-definition screen attached to a new building housing a Starbucks Reserve and a two-story team store. A Jostens jewelry outlet is set to open after Wednesday's ring ceremony. A space housing the championship trophy will also open this week. A tavern is coming to the building this summer, and the Cubs will move their offices there following this homestand.
There are also food trucks and concession stands, chairs and tables and benches. There's a big lawn, too.
It's a big change from a few years ago, when all that was there was a parking lot. The field has a different look, too, with the bullpens now underneath the outfield bleachers and no longer along the foul lines. Instead, there are new premium seats along the foul lines.
But the most jarring sight? Those championship banners.
The pregame celebration was as emotional and loud as anyone would have expected, after more than a century of frustration. Fans cheered former catcher David Ross when he was shown live on the left-field videoboard on "Dancing With The Stars" performing to his old walk-up song "Forever Young," an unexpected bonus during the delay. The Cubs then posted the phone number to vote for him.
Bryant got the "MVP! MVP!" treatment during pregame introductions. A loud "Let's Go Cubbies!" chant reverberated through the ballpark after Wayne Messmer's rendition of the national anthem.
But for lifelong fan Mark Abbinanti, it was all about seeing the banner go up. The Cubs unveiled a flag for the 2016 team on the roof behind home plate. The main event was the banners commemorating the three championships and last year's pennant going up in the outfield — two on each side of the manual scoreboard in center.
"Incredible," the 56-year-old Abbinanti said. "Actually, a tear-jerker for me. Never thought I'd see that. So happy."
A lifelong Wrigleyville resident who used to clean the ballpark in exchange for admission, he was leaning against a concession stand with a beer in hand. With him was his daughter, Jill, who predicted a few more championships. That might not be a stretch for a team bursting with young stars such as Bryant, Rizzo, Kyle Schwarber and Addison Russell.
"A lot of hard years of seeing it almost but not quite getting it," Mark Abbinanti said. "I still don't believe it. It's great."