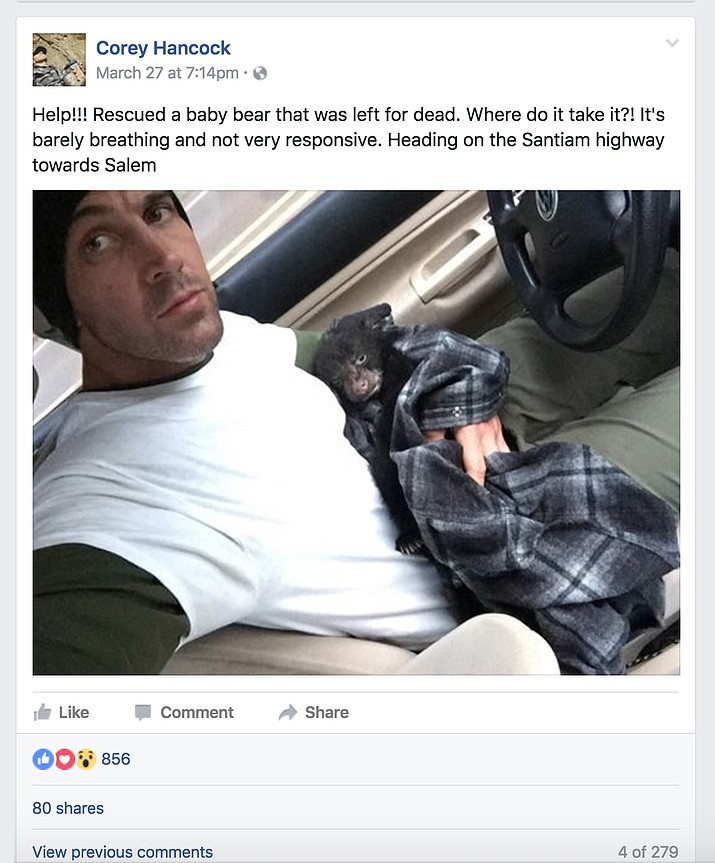 Originally Published: April 2, 2017 6:02 a.m.
SALEM, ORE. - State authorities say a man who found a 3-month-old black bear along an Oregon hiking trail and took it to a wildlife rehabilitation center has been warned but not cited.
KGW-TV reports (http://bit.ly/2oamvXa) Corey Hancock says he found the cub not moving and barely breathing Monday.
In a Facebook post Hancock explained that he found the bear cub "laying there on his back, seeming by all appearances to be dead. His lips were blue. His eyes were open, but unmoving and hazy. The rain was pouring down, drenching his belly. I might have seen a shallow breath."
Hancock said he hid behind a tree and made sure there wasn't a mother bear anywhere. He believed the mother of the malnourished bear cub deliberately abandoned him, or had been shot by hunters.
Because the cub wasn't moving and his near-death appearance (see photo at right), Hancock said he made the decision to take it to Turtle Ridge Wildlife Rehab, where the bear has been nursed back to health.
Wildlife officials say it's illegal to take wildlife out of their habitat, and initially suggested Hancock could face charges for removing the cub. But Oregon State Police said Wednesday that Hancock won't be punished.
Sgt. James Halsey says the decision was made after authorities determined Hancock believed he was helping the bear cub without knowing the mother bear may have been nearby.
The cub is now in the custody of the Oregon Department of Fish and Wildlife.
See Hancock's Facebook post to view photos and read his story in his own words.
More like this story