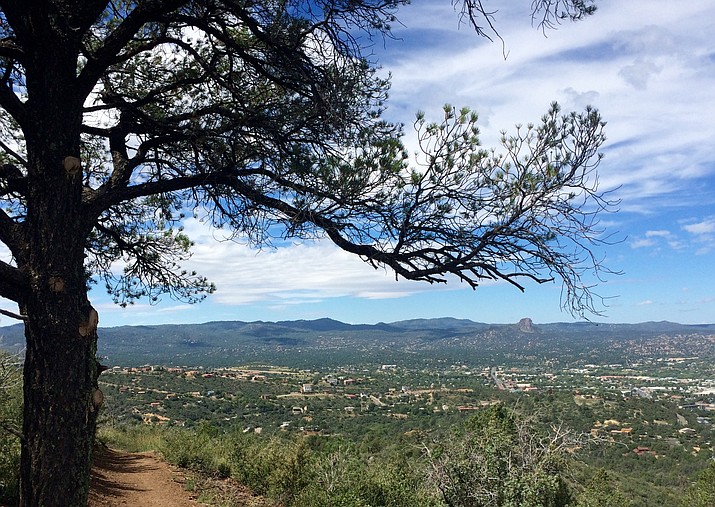 Originally Published: September 15, 2016 9:22 p.m.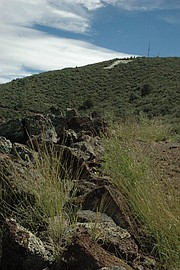 If it's unobstructed views of Thumb Butte, Granite Mountain, downtown Prescott, and Badger Mountain you're after, "P" Mountain might just be the hike or ride you're looking for.
Virtually from the time you leave the Turley Trail trailhead off Wells Fargo Road, the distinctive shape of Thumb Butte will be visible in the distance – often framing the streets of Prescott's downtown.
At times during the hike, Thumb Butte and Granite Mountain appear to be standing side-by-side. And of course, the "P" on Badger Mountain pops in and out of view as the trail climbs higher.
The P "Badger" Mountain Trail dates back to early 2015, when it was opened as a part of the Prescott Circle Trail. The four-mile stretch, which crosses Arizona State Trust Land, runs from the Turley trailhead to an underpass that runs beneath Highway 69 near the Prescott Gateway Mall.
The Turley trailhead offers an easy way to jump on the Circle Trail and do a short section of the 55-mile loop. Trail users can go either all the way to Highway 69 and double back for an eight-mile roundtrip, or turn back at the Badger Mountain summit for less than half that.
Either way, the trail is all about the views.
While the community's distinctive promontories steal the show, look a little closer, and views of the Arizona Pioneer's Home, the old Armory building on Gurley Street, and – at dusk – the street lights of downtown Prescott are visible.
An added bonus this year: In mid-September, wildflowers crowded the sides of the trail – infusing the otherwise earth-toned chaparral with mustard yellows, pale violets, and the creamy whites of the blooming cliff rose.
Access the P Mountain Trail by parking at the Turley trailhead, and following the Turley Trail it for short distance, before veering to the left at a sign that marks the Circle Trail. From there, the trail winds and climbs toward the large white "P" that adorns the top of Badger Mountain. The four-mile trail to Highway 69 climbs from a low of 5,514 feet to a high of 6,064.
The trail map is available on the city's website, at: http://www.prescott-az.gov/_d/trails/badger_mountain_map.pdf.
Get to the Turley Trailhead by taking East Gurley Street to Overland Road; take the first left onto Butterfield Road; drive about a half-mile to Wells Fargo Road, and turn right. Follow Wells Fargo to an intersection marked by a small sign on the right. Turn right between two houses, and follow the dirt road that runs alongside a wooden privacy fence. A sign on a gate directs trail user to open and close the gate. Continue on, and park in the dirt lot, where a sign points the way to the Turley Trail.