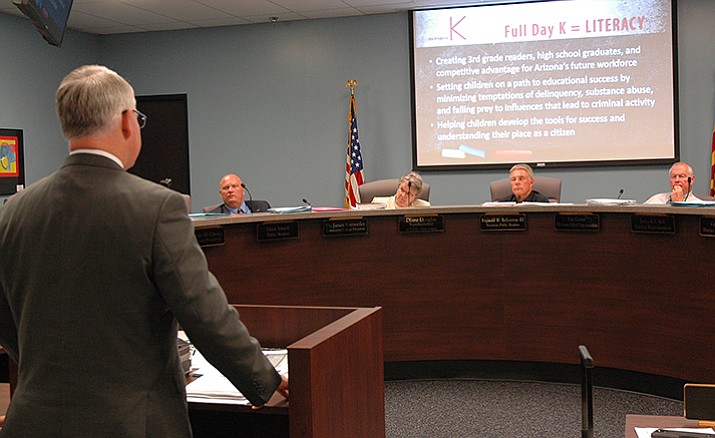 Photo by Howard Fischer, for the Courier.
Originally Published: October 25, 2016 6 a.m.
PHOENIX - A coalition of business, education and political leaders hopes to build support to reinstate state-funded full-day kindergarten, a move that would pressure Gov. Doug Ducey to include it in his budget.
But the governor, while saying he supports the concept, is unwilling at this point to say he'll actually make a spending priority of what could cost more than $200 million a year.
"Early literacy is critical to improving third-grade reading proficiency, and there is proof all-day K is a determiner of early literacy," gubernatorial press aide Daniel Scarpinato said Monday.
And the money?
Scarpinato said K-12 education "remains a top priority of the governor." But he said none of that means Ducey will actually commit to finding the dollars or including it in the budget he presents to lawmakers in less than three months, calling full-day kindergarten "an area worthy of investment."
On Monday, Phil Francis, the former CEO of PetSmart, told members of the state Board of Education parents should have the option of sending their 5-year-olds to a full day of kindergarten. With the state paying for only half-day programs, that choice exists only in some school districts which are either willing to fund full-day programs through tax dollars or charge parents a fee.
But as Francis acknowledged, that decision is not up to the board but instead rests on the governor and lawmakers providing the necessary dollars.
The Republican-controlled legislature did that in 2005 as part of a deal: They got Democratic Gov. Janet Napolitano to sign a 10 percent cut in state income taxes in exchange for her demand for full-day funding.
But five years later, with the state looking for money, lawmakers rescinded the funding. That 10 percent tax cut, however, remains.
Francis said he thinks the time may be right to revisit the issue. And he said the key is a broad-based coalition, one that includes prominent Republicans.
One who already has signed on in support of the concept is Sen. Steve Smith, R-Maricopa. Smith said, though, what he envisions will be far different than what his colleagues approved more than a decade ago, one with an actual academic emphasis.
But that still leaves the question of coming up with the cash. Smith said that will depend on the governor.
"If this is a project that he wants to pursue, I believe there's actual momentum in the legislature to pursue it," Smith said.
And how do you fund it? "Great question," Smith said. He said that's why the coalition is essentially trying to determine if there is public support.
"Do we recognize as a state this is important?" he explained. "If it is, well now let's talk about how we pay for it."
Aside from Francis and Smith, the board also heard support from Maricopa County Attorney Bill Montgomery. He suggested that having youngsters get a stronger start on education could have ripple effects, even leading to lower crime rates.
The push for all-day K also is being bolstered by the education community, including Arizona State University President Michael Crow.
But not everyone who addressed the Board of Education on Monday thinks this is a wise use of tax dollars.
Lisa Fink, president of Choice Academies, a group of charter schools, said research shows that any advantage children gain from full-day kindergarten dissipates by second grade. She said if there's money to be spent on early childhood education better priorities include things like vision and hearing screening to ensure that children can learn.
And there's something else: Fink said one out of every five 5-year-olds still needs a daily nap.
Smith said one thing that would make the program - and the spending - politically palatable to Republicans is that it would not be what lawmakers approved as part of the 2005 deal with Napolitano.
"Gov. Napolitano effectively just doubled the money that went into the K-12 system without creating any standards for accountability, time on task, requirement for rigor achievements or requirements for the quality of the teacher or the lessons learned," he said.
Smith said he has heard from parents who paid schools for full-day kindergarten only to find out from their children that the second-half of the day was filled with games.
"It was effectively babysitting time," he said, at least for some schools.
Smith said there's also a sentiment among some GOP lawmakers to ensure the full-day program is truly optional.
He said that means children who attend only the morning session should not find themselves left behind because the other youngsters were being taught something new in the afternoon. Smith said the second half of the day should be reserved for "reiteration, a reinforcement of what they learned the first half."
That question of whether full-day kindergarten leads to kids who can read better by the third grade is more than academic.
Board of Education President Reginald Ballantyne noted that current law requires third graders to read at grade level to advance. He said more children who can read due to a stronger start in kindergarten means fewer instances of the board "having the sad task of holding youngsters back from fourth grade."
There is another alternative to waiting for Ducey and lawmakers to come up with the cash: Take the case directly to voters and ask them to approve a specific levy with the proceeds earmarked for full-day kindergarten. Francis said he would not support such a move.
"My first hope would be an outpouring of support (so) the governor and legislature between them would think that it was important to fund this, perhaps on a phase-in basis," he said. "The Arizona economy's getting better and I think there's a way to accomplish this without busting the budget."