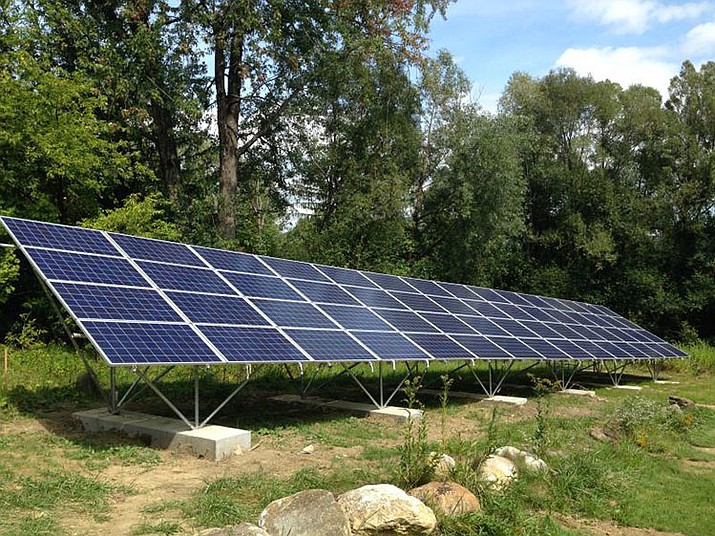 Originally Published: October 14, 2016 6 a.m.
Yavapai County residents interested in installing solar panels on the ground – as opposed to roof mounted – need to know the current code allows for a 25-foot setback for one and a 5-foot setback for the other.
At the Oct. 13 joint meeting between the Yavapai County Planning and Zoning Commission and the Board of Supervisors, Senior Planner Tammy DeWitt said the Development Service Department has received inquiries from people in the solar industry about why the setback distances vary.
The county ordinances currently state that solar panels installed on detached accessory buildings – such as a shed, garage or carport – can encroach in the rear setback up to 5 feet from the property line.
However, ground-mounted solar panels must meet the primary setbacks of 25 feet. If property owners want them installed within the 25-foot area, they must request a variance and go through that process, which culminates with approval by the Board of Adjustment.
DeWitt said if, during the variance process, one neighbor objects to the installation of ground-mounted panels closer than 25 feet, the request is denied and the property owner would then need to file for a use permit – a more costly and time-consuming process.
DeWitt said she would like to see an ordinance amendment to treat ground-mounted panels the same as those on detached accessory buildings.
In one recent instance, a property owner had ground-mounted panels installed, then enclosed the space underneath, a height of about 2 feet, and called the structure a "shed."
"There is no criteria how big a shed has to be," DeWitt said.
The county could add a minimum height requirement for dwellings, but property owners would still need to apply for a variance and show a hardship why the panels must be placed closer to the property line.
Supervisor Craig Brown said he wouldn't want to look at panels 20 feet from his property line. Also, he said, at certain times during the day, the panels could blind a person depending on which way they were pointed.
Development Services Director Steve Mauk said he and his staff would get together and craft something to bring back to the board and commission.
More like this story