Originally Published: October 13, 2016 9:04 p.m.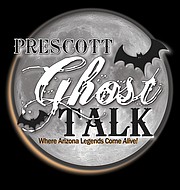 Essentials
Where: Prescott Center for the Arts, 208 Marina St.
When: Oct. 21 at 6 p.m. & 7:30 p.m.
Oct. 22 6 p.m., 7:30 p.m., & 9 p.m.
Tickets: $15, adults & $12, children
Call: 928-445-3286
Online: www.pca-az.net
You say you like history, do you?
Arizona history?
Perfect, because Prescott Center for the Arts has an event for you.
"Ghost Talk 2016," the ninth year for the show, brings Arizona folklore to the stage through traditional storytelling, music, song, and dance.
The show is also a fundraiser for West Yavapai Guidance Clinic.
"Ghost Talk" writers create vignettes that cover the state's history, legends, and even rumors in any of a variety of theatrical genres, from Greek tragedy to musicals.
If you've seen "Ghost Talk" before, you won't see the same show again, because new material is combined with previous years' "best of" plays to make each annual edition fresh and original.
"This year's show will feature past favorites like 'The Hotel Vendome Apparition' about Abby and her cat Noble haunting Room 16 and 'The Deep Freeze Phantom,' who roams Iron Springs Road," Ghost Talk playwright and director Karen Murphy said. "But also some brand new vignettes never seen on the stage before like 'The Attack of the Deadly Chupacabra,' 'The Killer Call Girls of Gurley Street,' and 'The Terrifying Tale of Santa Muerta and the Territorial Prison.'"
As you can tell by the titles, the plays aren't strictly horror shows—they include a good dose of humor, too.
"Ghost Talk" 2016 is an official "Make a Difference Day" event on Oct. 22, a national day of service. All proceeds are earmarked for youth programming at the PCA and the West Yavapai Guidance Center.
Also:
• Ghost Feast at El Gato Azul World Bistro on Oct. 11 and 12 provides a dinner-theatre-inspired evening of tapas and Ghost Talk teasers on the patio of the downtown Prescott restaurant. Ghost Feast will whet the appetite of patrons for the Ghost Talk show that premieres the following week. Tickets are $30; seating is limited to 60 people per night. Reservations are recommended. Call 928-445-1070.
And:
• Tech Talk is an educational outreach project featuring Ghost Talk in a technical theatre workshop for local scout troops and students on Oct. 20. The Ghost Talk full dress technical rehearsal will be followed by a panel discussion with the Ghost Talk crew covering various aspects of the tech-heavy show. Tech Talk tickets are $5 per student.
More like this story