Photo by Les Stukenberg.

Originally Published: October 13, 2016 11:13 p.m.
CHINO VALLEY – Chino Valley High's boys' soccer team on Thursday, Oct. 13, pitched its 11th shutout of the 2016 season, including its third straight in power-point matches, after posting a 7-0 victory over Northland Prep at home.
Photo Gallery
Chino Valley vs Northland Prep Soccer 101316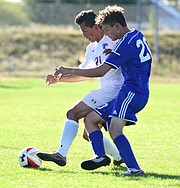 The three-time defending small-schools state champion Cougars improved their overall record to 16-1 (includes tournament matches) and 5-0 in the 2A Classification's Central Region.
Through 17 matches, Chino Valley has outscored the opposition a whopping 124-8. The Cougars suffered their lone loss to 2A No. 1-ranked Blue Ridge at the Old Pueblo Soccer Classic in Tucson a couple of weeks ago.
On Thursday, Mathew Rios led Chino offensively, tallying a hat trick with three goals. Arturo Gomez, the Cougars' leading goal scorer with 32 goals, chimed in with two goals and two assists. Elijah Desmond and Jairo Herrera added a goal apiece.
Jordan Sanchez, Walter Soto, Desmond and Herrera also notched one assist each. Soto leads Chino in assists with 19 on the campaign.
Chino Valley, which leads the 2A Central standings, has three regular-season matches left on its schedule. The Cougars will take a break from region play when they host Payson at 6 p.m. Saturday, Oct. 15, at the CVHS football field.