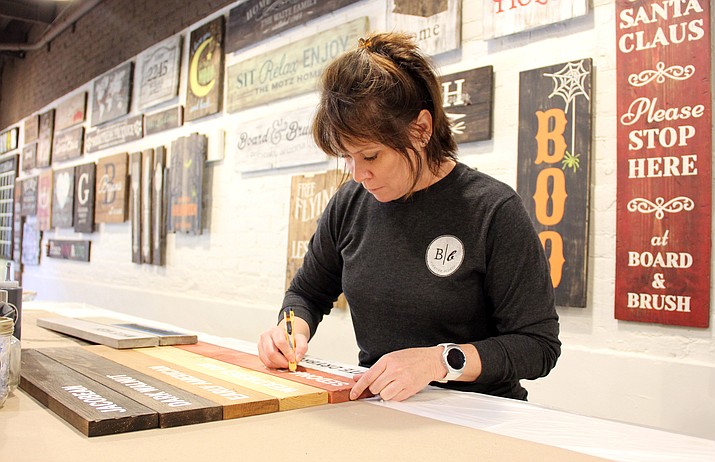 Photo by Max Efrein.

Originally Published: October 2, 2016 6 a.m.
"I want to be my own boss."
Stephen Hart, spokesman for the Small Business Administration in Arizona, hears this sentiment all too often.
"A lot of people mistakenly see small business as a way to get out from under the day-to-day grind of being an employee," Hart said.

While working for one's self sounds enticing, Hart has found there are three key ingredients that must aid that desire to successfully start and maintain a small business: passion, planning and dedication.
"You have to know what your passion is before getting started," Hart said. "You're going to need it to survive the 24/7."
Crista Toth, licensee of a Board & Brush Creative Studio location in downtown Prescott, completely agrees. She is constantly thinking about her new small business and couldn't imagine making it through the anxiety that comes with being a small business owner if she didn't love what she's doing.
"It's the first thing you think about in the morning and it's the last thing you think about before you go to bed," Tuth said. "I had to force myself to go to bed early a couple nights this week because I felt like I was getting a little stressed out about stuff."
Once that genuine drive to succeed is established, planning is in order.
"Everything needs to go into some sort of business plan," said Alan Carlow, a business councilor at the Small Business Development Center (SBDC) at Yavapai College.
This includes market research to identify customer needs, product development, financial modeling and a marketing strategy.
"It's not guess work," Carlow said. "It's very specific."
However, the type of business one is looking to open and the industry it falls within will determine how much of such planning is required.
"For example, if you're opening a little T-shirt shop, you don't have to do any elaborate research," Carlow said. "If you're opening a big manufacturing company or medical product company, then yes, there's a lot more analysis you have to do."
The point is, someone looking to start a small business has to go through the planning process.
"I can't tell you how many people call me up and say 'I've got my warehouse; I've got my bulldozer; and I've got my concrete mixer. Now I need a loan so I can start my business,' and they're in debt $300,000 without a job," Hart said. "Good intent, but that's not going to get you there."
In Toth's case, she did some of her own market research to determine her target audience, but decided to contract with a company that already had a proven business and financial model rather than starting from scratch.
"It wasn't a kit by any means, but they were very helpful in sharing their information," Toth said.
In return for that support — which saved her months of additional research — Toth pays the Board & Brush company royalties based on her sales.
With the initial plan executed and about a month into her business's operation, Toth is now in the determination phase: can she follow through with what she has invested in?
"My husband and I have talked so much about it and I know we can do this," Toth said.
Part of why she and her husband decided to take this path is to impress their children and continue to set an example of what hard work can achieve.
"I want our kids to be as proud of us as we are of them," Toth said.
Recognizing that starting a small business takes hard work is perhaps most essential, Hart said.
"My advice to those thinking about starting a small business would be: If you think it's going to be easy, don't do it, because it's not going to be," Hart said. "Will it be worth it? To a lot of people it is. But plan on working hard and plan on planning hard. It's like anything in life. It's like a skill. Were you born a good soccer player, or did you practice like hell to get to be one?"