Originally Published: November 26, 2016 6 a.m.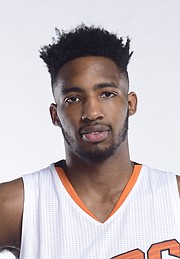 PRESCOTT VALLEY — Recalled by the Phoenix Suns just six days ago, Derrick Jones Jr. was back in a Northern Arizona Suns uniform Friday after spending three games in the show.
Making his NBA debut Nov. 19 in front of his hometown crowd of Philadelphia, Jones said it was an experience of a lifetime.
"Going back home to Philadelphia and getting minutes in front of my family, it was crazy. It was a great experience and I learned a lot from it," Jones said, adding even though it was just three minutes of playing time, he played his "heart out."
"I played hard those two or three minutes, because you never know what happens," Jones said. "You play your heart out those two or three minutes, and the next game coach might believe in you, and give you six or seven minutes."
A heralded prep recruit out of Philadelphia, the 6-foot-7, 190-pound Jones signed an NBA contract prior to the beginning of the NBA D-League season, and is just one of many players around the league that will spend their time bouncing between the NBA and its minor-league system.
"Nobody is guaranteed tomorrow. I just go out and play my heart out like my father always told me, give it 110 percent and live with the results," Jones said.
Undrafted out of UNLV, Jones averaged 15.5 points on 55 percent shooting and seven rebounds in two games with Northern Arizona.
Brian M. Bergner Jr. is a sports writer and columnist for The Daily Courier. Follow him on Twitter, Instagram, Periscope and SoundCloud at @SportsWriter52, or on Facebook at @SportsAboveTheFold. Reach him by phone at 928-445-3333, ext. 1106.
More like this story