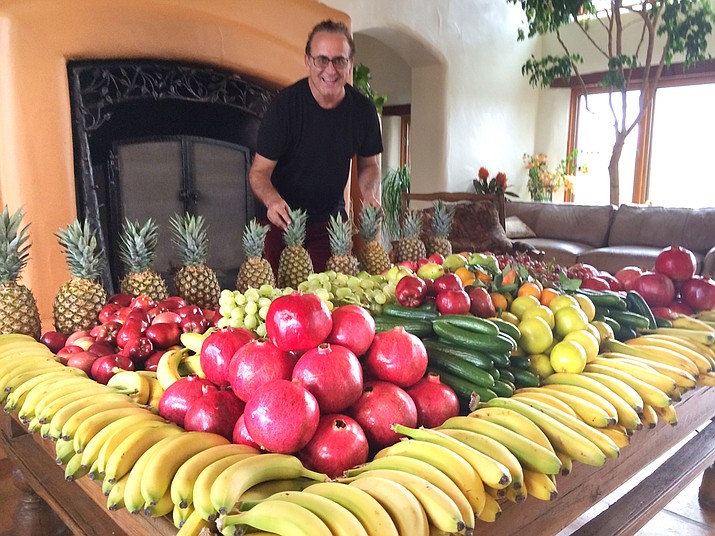 Photo by Nanci Hutson.

Originally Published: November 24, 2016 6:02 a.m.
PRESCOTT – Growing up in a small village in Iran, Dr. Hojat Askari was the product of parents who were illiterate pistachio famers yet had a deep-seated belief in sharing their meager bounty with those around them.
Nine years ago, Askari's beloved father died; Askari opted to continue his legacy of compassion and generosity not only as a doctor but as a humanitarian eager to give thanks by giving to others.
In his parents' honor, Askari started what has become a holiday tradition: the lover of Middle Eastern cuisine cooks and delivers a Persian-influenced Thanksgiving meal to about 400 homeless teens, lonely patients, emergency room doctors, nurses and staff, as well as to his own medical staff. He also cooks a Christmas holiday meal, as well as one in the spring around the various religious holidays at that time of year.
"I'm carrying on their legacy," said Askari, 49, an internal medicine physician with Thumb Butte Medical Center who moved to Prescott nine years ago and started this personal outreach project.
A hobby chef who operated his own local restaurant for a year, Askari said he loves to cook dishes native to his homeland and to entertain. Most of all, he loves to be a force of good for others, be it helping a patient cope with a tricky medical ailment or feeding a hungry family a holiday meal.
It all started with a former office manager, Angela Robertson, who worked with homeless teens through various local charities and was able to help Askari make arrangements to deliver them a special Middle-Eastern flavored Thanksgiving meal: turkey cooked with pomegranate, Burberry and cranberry sauce with grated walnuts and a side of saffron rice. He also then provides bags of fresh fruits – pineapples, bananas, pomegranates and assorted melons – and candies.
The gesture was so well-received the first time Askari decided not only to continue doing it, but expanded the gift to other holidays and other people. Askari is also a physician who still embraces "house calls" for his homebound patients.
Askari, with a small crew of loyal volunteers, cooks and delivers more than 200 meals and then opens up his home that overlooks Thumb Butte to another 200 or so patients, staff and volunteers. This year, he said he used more than 50 turkeys and countless pounds of rice for the meal; he will not talk about costs as it is a gift.
His motive: "Just to share; to give a meal to those who need it most."
"I don't want to forget where I've come from," Askari said of his humble roots that pushed him and his five siblings to stretch themselves, and give back to others, in their own lives. Three of the five siblings became doctors who immigrated to America, where they now practice medicine.
"I love it," Askari said.
On Sunday, Askari's home located on a hill with circular views of Thumb Butte was a flurry of cooking and arranging for loaded containers of the cauldron-cooked turkey and rice to be delivered to volunteers who then reach out to shelters and other charities that distribute to homeless teens and children. Other volunteers were taking the aluminum foil-covered platters to the Yavapai Regional Medical Center's two emergency rooms, the west campus in downtown Prescott and the east campus in Prescott Valley. He relies on the use of special-order, oversized cookware from New York City to cook the turkeys and rice, a large coffee table was arranged with several levels of fruit.
Prescott High School brother and sister David and Cassaundra Bulters, and their father, Daniel, are family friends who were volunteering with this operation for the first time. And they were very impressed.
"This is a great thing he does for other people. People often don't ask for help, and he just does this out of his heart and I think more people should do that, Cassaundra said.
A fellow physician, Dr. Pamela Tabrizi, flew out from California to help, and as she stirred a humongous pan of rice admitted she had no idea "the scale" of his holiday outreach.
"It's a wonderful event," Tabrizi said.
In past years, Askari has done his deed with no fuss or fanfare; certainly no publicity.
That changed this year because of the wife of one of his patients, Stacey Greenwald, a retired nurse and physician's assistant, who just felt at a time when so many people are focused on the evil in the world that this level of generosity might inspire the community to see that there is still a lot of good in people.
"I've just seen his goodness year after year," Greenwald said. "He has a big heart."
For Askari, this holiday tradition is what allows him to give thanks.
"I do it from the bottom of my heart," Askari said. "I love to share."