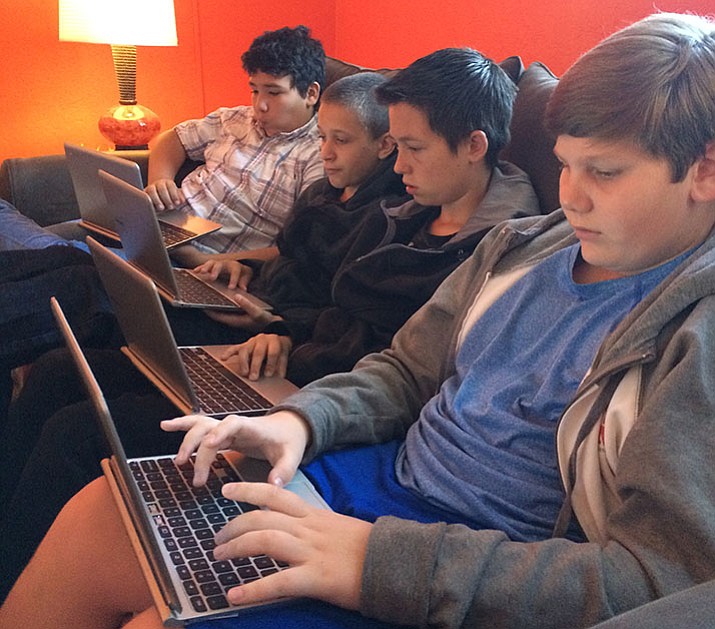 Photo by Nanci Hutson.

Originally Published: November 20, 2016 6:02 a.m.
PRESCOTT – Legs stretched out, high-top sneakers resting on a coffee table, Haiden Dumoch balances a laptop Chromebook as she lounges on a sofa next to three other girls doing likewise.
Across the way, a couple jeans and T-shirt clad boys are submersed in bean bag chairs, their laptops positioned on their knees, and private musical selections playing through a solo ear bud.
A few others sit in chairs around a white-board-turned-table top; some even choose to jot erasable notes at their makeshift work station. One girl reads her computer screen from atop a balance ball.
In a space that resembles either a high-end coffee shop or European living room, complete with eclectic world art arranged on orange and yellow walls that also sport a bank of global time clocks, these Mile High Middle School seventh-graders are part of an experiment. Language arts teacher Wendy Tollefsen has transformed a desks-in-a-row, blackboard-walled classroom into a learning den, complete with couches and futons, throw rugs, coffee tables, Indian-blanket bench seats and a big Peace sign behind the classroom door.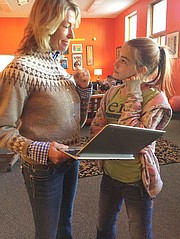 She, too, boasts the latest classroom technology; a large touch-screen device that will allow for interactive learning that will enhance, and differentiate, lessons. She eventually will be an instructor to other teachers, but for now she and the students together will be experiencing yet another 21st century tool intended to expand student's digital literacy.
"We're just getting the party started," the exuberant deacde-long district veteran said of this educational experiment she is chronicling as part of a thesis for her second master's degree in communication and leadership. "I don't expect my classrooms to ever be silent."
All of this is aimed at igniting students' desire to stretch their creative thinking. The cozy, less-structured environment is intended to inspire both independent, and collaborative study, she said. Most importantly, though, Tollefsen said she wants students to invest in their own education.
That does not mean Tollefsen is hands off. It's just that she encourages students to make good choices, or face the consequences.
She informs students this model is rooted in the real world where people must work, and respect, differences in others so as to get a particular job done. Differences of opinion are often required to find a path forward to success, she said.
"We're getting better at it," she said of the class dynamic.
On a Monday morning, Tollefsen assigns students to work on their position statements for an opinion essay. She gives some basic instruction, and then leaves the students to do their work. She tells any student who wants her help to meet her in the corral; a carpeted space behind the main seating area.
"I can give them the instant feedback they need," said Tollefsen who stays almost constantly on the move ever ready to answer a question or remedy a problem.
For the most part, the students appreciate Tollefsen's style and the new look.
Student Julian Ashurst likes his seat at the head of the white board table.
"This makes it easier for me to listen and focus," Ashurst said.
Classmate Raylee Elder said it's easy to work when you can listen to music, or converse with friends about an assignment without fear of reprisal. She realizes this setting might be distracting to some, but she and her friends have embraced the independence it offers.
"You feel good as soon as you walk into the classroom," said student Diamond Douglass.
Tollefsen admits this transformation was an "undertaking," one that required she provide the furnishing and even the painting of the walls.
But she has earned strong support from both administrators, colleagues, and parents.
"We love when our teachers want to be innovative," said District Superintendent Joe Howard.
As a middle school educator himself, Howard said he admires Tollefsen's efforts to engage students who are "moving a mile a minute, and so need you to be super engaging."
Howard said he admires that Tollefsen questioned how she might create an environment so that "kids are excited to come."
"And she's tying this into her master's degree and using data to confirm that it's working, or not."
In her classroom, Tollefsen said she wants to set the stage so that students are able to be their best' to be confident writers and storytellers."
Her role as their teacher: "To be the facilitator of dreams."
More like this story