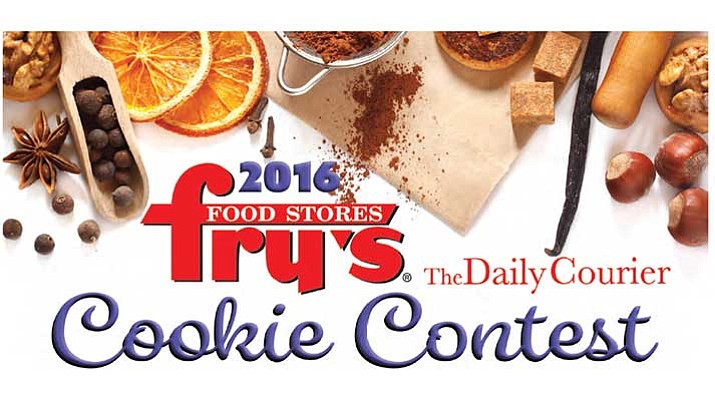 Originally Published: November 18, 2016 1:50 p.m.
Cookie Contest 2016 Winners and Recipes is a special publication inserted in The Daily Courier on November 18. Pick up a copy of today's paper to have a copy of all of this year's recognized recipes.
Fry's and The Daily Courier would like to thank the community for submitting over 100 scrumptious holiday cookie recipes.
On behalf of The Daily Courier staff, we would like to thank the management staff and employees of Fry's Food Stores for making this year's event a success for all.
Congratulations to our winners and rave review finalists.
Fry's Willow Creek
1st: Diane Shipman: Baklava Cookies
2nd: Patricia Haslach: Hausfreunde (Friends of the House)
3rd: Cathie Ruelas: Peppermint Crunch Brownie Cookies
Rave Reviews:
Alicia Brown
Grayson Newell
Ingrid Blasik Hughes
James Rivera
Kristine Carlson
LeeAnn Kipp
Marla Bassler
Nancee Kilbourne
Robyn Grant
Sarah Weintraub
Sherry Baca
Fry's Glassford Hill
1st: Sheryl Gardella: Carrot Cake Thumbprint Cookies
2nd: Karen Cantrell: Salted Caramel Chocolate Cookies
3rd: Sharon Campbell: White Chocolate Dipped Cranberry Pecan Oatmeal Cookies
Rave Reviews:
Ann Chambers
Cynthia Dufour
Debbrah Tubbs
Delores Duncan
Eric Weiss
Janice Van Selus
Jean Acquaveall
Joan Herrick
Marilyn Prevatte
Marilyn Standish
Rhonda Smith
Fry's Fair Street
1st: Lyn Uniacke: Triple Chocolate Turtle/Cream Cookies
2nd: Julie Sturdevant: Cinnamon Bun Cookies
3rd: Sheryl Price: Carrot-Cake Thumbprint Cookies
Rave Reviews:
Bebe Wright
Christyn Smith
Eileen Pickering
Evelyn Sparks
Frank M. Caganich
Joan Griffin Johnson
Katy Hewitt Reynolds
Kylin Cummings
Maria Lourdes Chie Toledo
Sonya Endres