Originally Published: November 14, 2016 11:04 p.m.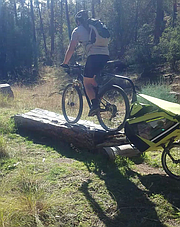 Over the past weekend, Nov. 5-6, my husband and I mountain biked the entire Prescott Circle Trail with our 18-month-old daughter in tow.
While mountain biking the entire Prescott Circle Trail in two days is hardly an unheard of feat, we felt that towing our 18-month-old along for the ride just might make it a first for the Prescott Circle Trail.
We live in Prescott and have been talking about doing this ride with our daughter for a few months now.
On the first day we covered a little under 30 miles; we started near Willow Lake and finished near Wolverton Mountain, where we camped for the night. On the second day, we woke up, broke camp, and rode the remaining 25 miles to complete the loop.
We hope that sharing this story with other folks in Prescott might inspire families to get outside more and bring some attention to the stellar Prescott Circle Trail.
Sarah Freeman, Prescott