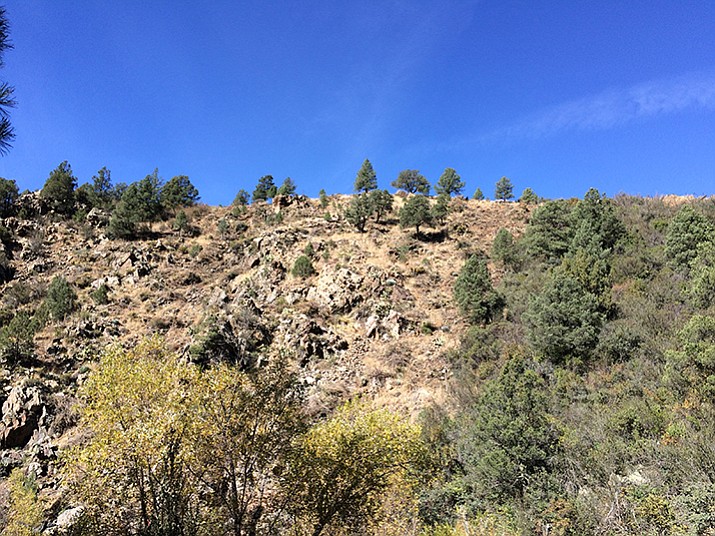 Originally Published: November 12, 2016 6:01 a.m.
Prescott's southwest boundary with the forest is now about as fire safe as it can be, thanks to a partnership between three agencies and a private landowner. A final 11.1-acre fuel mitigation project on private property "connects the dots" and stands to protect all Prescott residents by finishing a 200-ft.-wide firebreak stretching from White Spar Road to Groom Creek.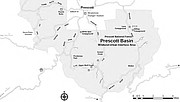 The Prescott Basin, immediately south and west of Prescott, encompasses about 59,000 acres, and has a high percentage of wildland-urban interface, a mixture of undeveloped and developed land.
Volunteers, Prescott to help disabled officer get firewise
Team Rubicon is coming to Prescott to help create a firewise defensible space around the property of a disabled former police officer near Lynx Lake.
About 40 members from within a 450-mile radius of Prescott will gather Friday, Nov. 18 to Nov. 20, to participate in Operation Missing Lynx.
This nonprofit disaster response organization is made up of military veterans, first responders and medical personnel who deploy to help communities not just in Northern Arizona but across the country and around the world. All members must be vetted, receive background checks and training.
"We named it Operation Missing Lynx because we are working in the Lynx Lake area and, in our own subtle way, are paying tribute to our Missing 19 Hotshots," said Janna Hitchcock, interim Arizona State administrator. "We wanted to be very respectful of them and their family."
The Prescott Rodeo Fairgrounds has offered its property for the Team's campsite, with cots supplied by the American Red Cross and donations from several Prescott businesses for food. The YMCA will provide shower facilities, and Scott Brady from Overland Journal is sponsoring a barbecue one night.
"We do all of this with donations and we are all volunteers. Firewise has marked out the area for us, and Bob Betts (chair of Prescott Area Wildland Urban Interface Commission) has been a tremendous help getting billeting and setting up our contacts," Hitchcock said.
It is the most dangerous area in which a wildfire can start, said James Robbins, crew leader with the Arizona Department of Forestry and Fire Management (FFM), because in fire season, the winds blow toward Prescott from the southwest.
Robbins said the inter-agency partnership is unprecedented and timely. "It's not often you find a private property owner willing to let us come onto their property to cut a fuel break," he said.
Prescott National Forest, FFM, and Prescott Area Wildland Urban Interface Commission (PAWUIC) teamed up to help landowner, Bill Fields, finish a project that began in the early 1970s.
Fields, owner of the Oro Flame Mine property southeast of Ponderosa Park, said he answered a knock on his door in 1973. It was the forest service asking if they could put a firebreak through his property. That didn't happen right away, although the firebreak eventually extended from his property in both directions.
In 2013, Fields said, a hotshot crew came out and walked the fuel line to the highway with plans to complete work on it in the fall. After the Yarnell Hill Fire that June in which 19 hotshot members died, Fields didn't hear much more until he started attending PAWUIC meetings.
Grants from the National Conservation Resource Services and FFM through PAWUIC paid for inmate crews from Winslow to cut through the brush and pile the slash for burning – 350 slash piles, to be exact. A crew leader, three staff and 20 workers finished up two six-day trips this past week, camping out on the property.
The work was grueling in steep brush-laden land.
"They did an outstanding job," Robbins said. On one side of the ridge, it dropped about 800 feet in elevation, and about 500 feet on the other side. "It was probably the steepest part of that fuel break, down to the headwaters of the Hassayampa."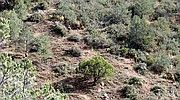 Fields, too, had nothing but compliments for the inmate crew. "They were polite, enthusiastic, motivated, efficient and extremely organized," he said.
Robbins said the brush will grow in to about three feet high in the next two years, but it will be green, not dead like the older bushes that have dry, dead branches at the center of the vegetation. It takes about 15 years to build up the dead component that is so dangerous in wildfires.
Fields is responsible for maintaining his portion of the fuel break, clearing it again in about 10 to 15 years. He paid about $2,400 to feed the crew, and will pay a private company to come in and burn the piles. The original quote for the project was about $23,000, Robbins said.