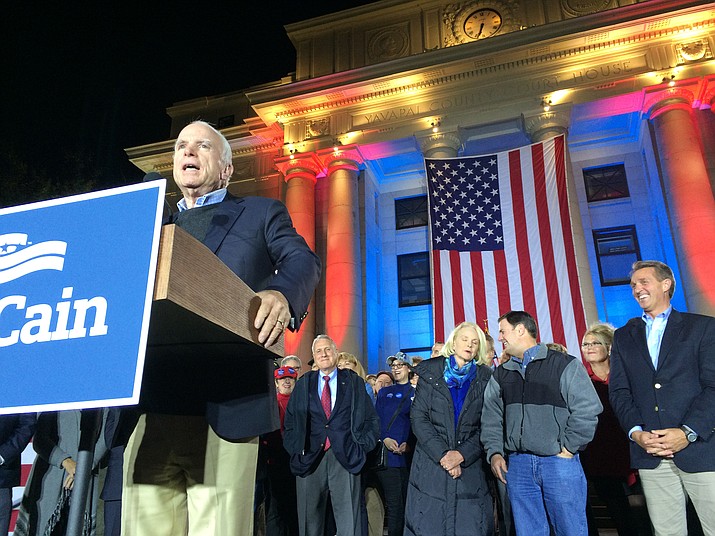 Photo by Sue Tone.
Originally Published: November 7, 2016 8:57 p.m.
PRESCOTT - Sen. John McCain stood on the courthouse steps Monday evening, Nov. 7, with a small crowd of supporters at his back and a bigger one in front, and invoked the spirit of Barry Goldwater, Teddy Roosevelt and Buckey O'Neill.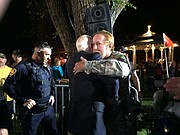 "I am honored to recall that this is where I ended my campaign in 2008 right here on these steps," he said of his Presidential campaign. "In deference to Barry Goldwater's tradition, I've had to make predictions, especially about the future, so I'm not sure that I have it in me. It's fair to say, that tonight is very, very important to me."
The traditions and spirit of Prescott reside in the statue of Buckey O'Neill – he pointed across the plaza – just as Arizona politics also began in Prescott, he said.
In the audience were state and local dignitaries. Mayor Harry Oberg officiated, Prescott Councilwoman Billie Orr lead the prayer, Andy Tobin, running for Corporation Commission, asked the audience to go home after the rally and "rattle up" their neighbors to vote Tuesday.
Rep. Paul Gosar pointed out his flag lapel pin he was wearing upside down because "this country's in trouble." He led everyone in a pledge to defend the Constitution of the United States and to uphold the duties of a voter. Gov. Doug Ducey reminded people of the great Republicans now serving at the federal, state and local levels.
Two issues at the top of Arizona concerns, McCain said, were fire and water.
"We need to thin our forests. We need to reuse the water. We need to be serious about water, my friends," he said. "We are going to have to fight for our water, and I intend to continue that effort."
He finished with, "Now let's go out and win this thing," then left the platform to shake hands and embrace the veterans in the crowd.
In his bid for re-election McCain, who soundly defeated his primary challengers, faces Democrat Rep. Ann Kirkpatrick on Tuesday.